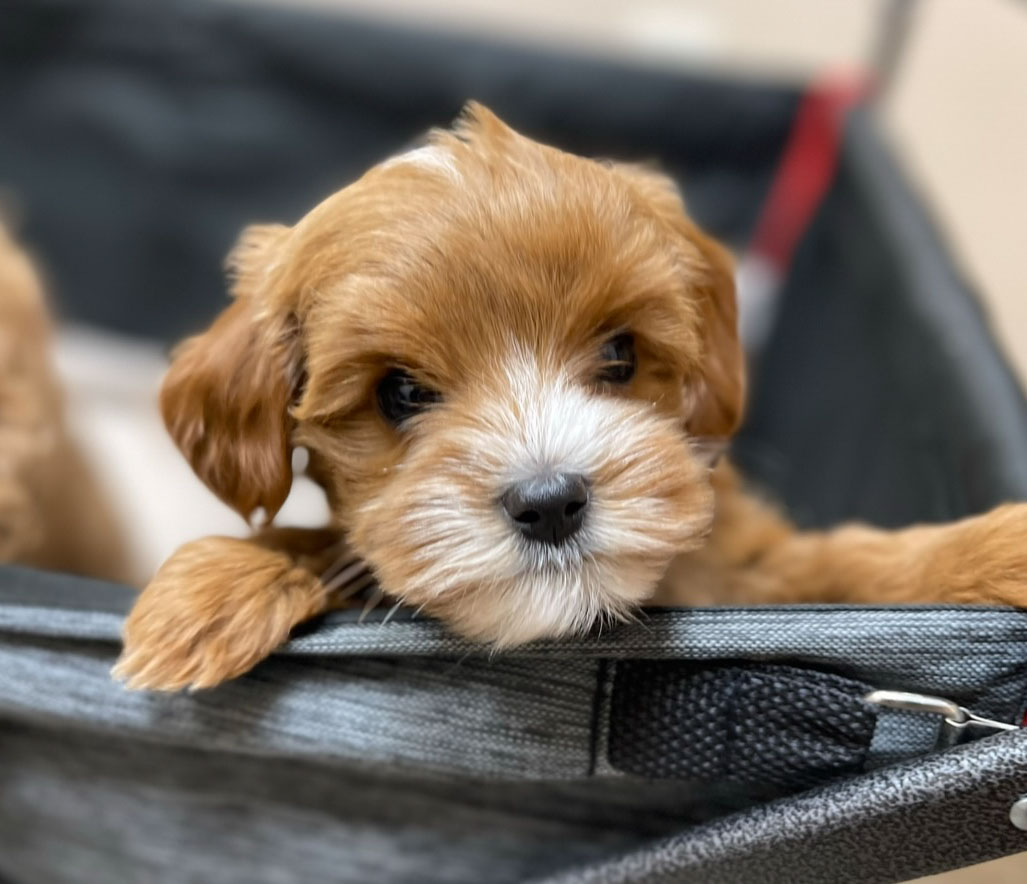 Delivery Options: The Flight Nanny
How exciting is this going to be for your puppy and you! We have several delivery options to get your puppy from our house to yours. If you live close by – within an hour of our Cleveland-area zip code – we can deliver door to door. Further out, we can meet you halfway within an hour's radius. Or you can do the driving from almost anywhere in the Northeast US.
But if you live distant from us, by far the most workable solution is to take your new puppy on his first flight. There are even two options with this: You can engage a flight nanny, or make the trip yourself. We provide the puppy's soft-sided travel carrier in either scenario. We'll meet you or the nanny curbside at our airport and make the puppy transfer. From that point, your loveable little furball is off on his Big Adventure!
For your convenience, here's a handy list of airlines that allow in-cabin flying with dogs.
What is a Flight Nanny?
Simply explained, a flight nanny is a professional who travels with your puppy in the cabin of the plane, bringing him from us to the airport closest to you. Most of the time flight nannies are women, but there are some very good nannies who are guys. Or, it can even be you!
Whichever you choose, a flight nanny service is far better than flying your precious new puppy in the cargo hold of a plane. Trust me on this.
Your flight nanny will stay with your puppy for the entire flight. He'll have his very own soft sided carry-on bag, but once the flight takes off, most times your little sweetie makes his way to the nanny's lap. Also, he'll be able to take along his puppy toy and his favorite blankie with Mom's scent on it, for reassurance.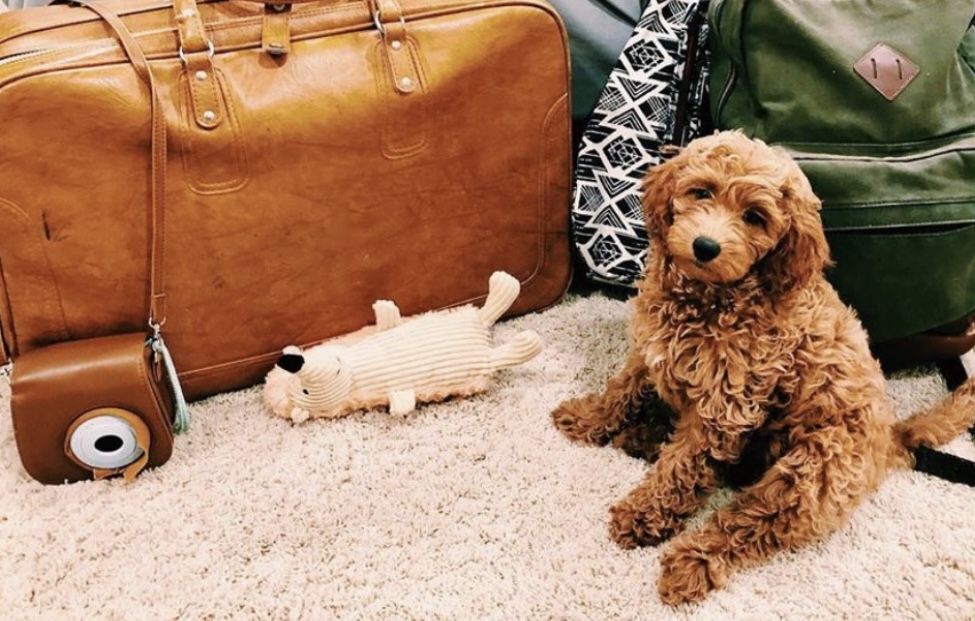 In-Flight Puppy Care
Your flight nanny will allow interaction with the other passengers, and the puppies really enjoy that! In fact, because of the foundational training they've gained from our home, they eat up the attention. From all reports, takeoffs and landings don't faze them either.
It's good practice to use sanitary pee pads for your puppy in a family restroom, and clean up any accidents to leave the area better for the next person. Further, your puppy's carry-on will have a pad on its floor so that any in-flight messes can be cleaned up right away. And puppy wipes will be used to freshen him up or clean up messes. Needless to say, not only will your new puppy appreciate that attention, but so will the other passengers!
There is no need to sedate your puppy, medicate him, or give him 'calming' treats. The flight nanny's job is to provide reassurance that all is well. At Maple Hill Doodles, we do our best to use ENS (Early Neurological Stimulation) and we raise our puppies inside our home. So, they're totally comfortable with almost any activity, including a busy airport waiting area..
Got everything  you need? Look through our suggested Puppy Supplies.
Your Puppy has his Flight Nanny 's undivided attention
On this all-important journey from our house to yours, we like to think that your new puppy can handle anything. But remember, he's still just a baby, after all, and subject to sensory overload when everything around him is new and noisy. Mostly, however, your puppy's curiosity about what goes on inside the plane is the guiding force. He's off on the adventure of his life so far, so let's make it fun for him and his traveling companions!
Rather than engaging a flight nanny, you may prefer to do the escorting yourself. Be sure to take plenty of photos to remember the trip. You'll have plenty of opportunity to ask questions of airport staff along the way (checkin, other passengers, the pilots, and we'll meet you with your puppy (in his crate) at the airport, usually at the departure entrance curbside.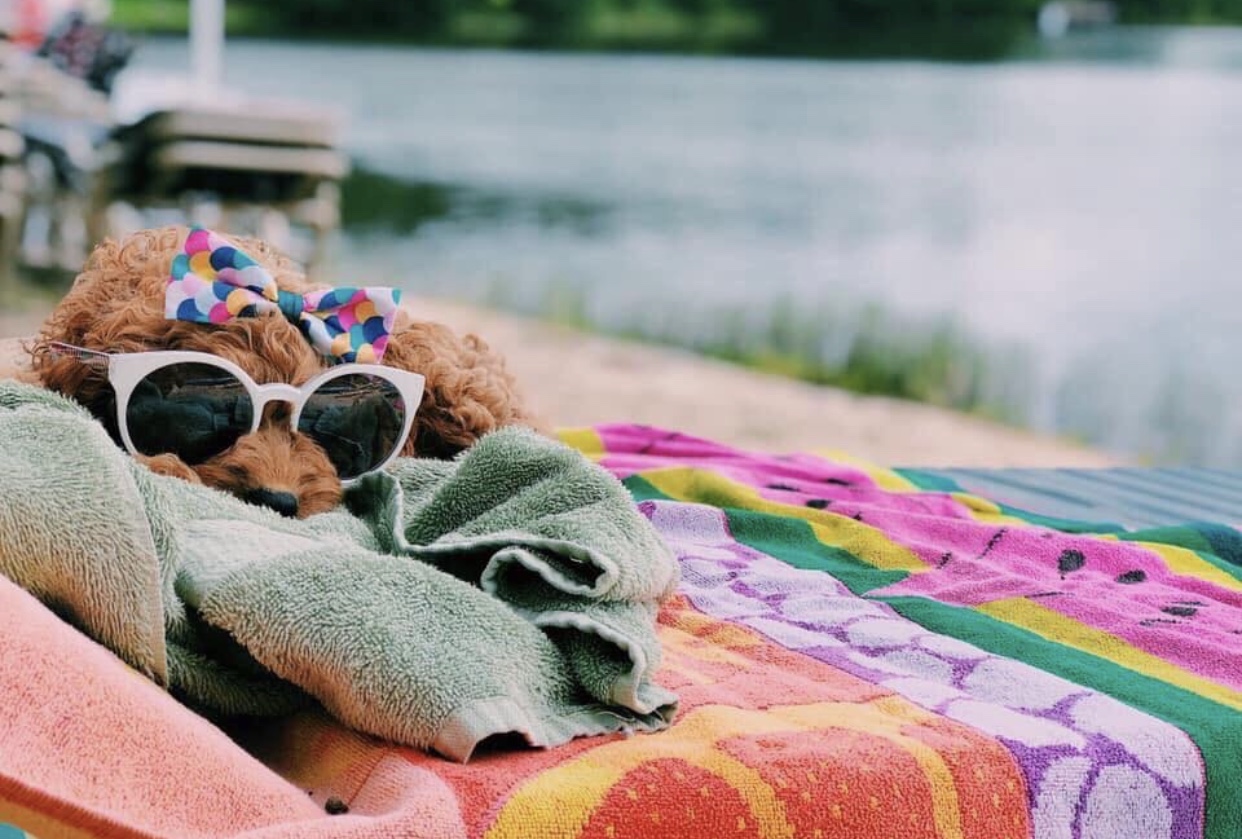 How much does Flight Nanny Service cost?
Depending on whom you select to escort your precious new puppy from our house to yours, most of the cost for Flight Nanny Delivery will be the plane ticket (round trip). But there are other expenses. You will need a soft-sided crate that your puppy will travel in. If there are any airline fees you should be prepared to pay those as well, or reimburse the flight nanny.
You may decide to use a flight nanny as a convenience, and it's well worth that extra expense if you find yourself in a time squeeze. We've found that most of the families who adopt a puppy from Maple Hill Doodles totally enjoy having their little cuddler on their own lap on the plane. But if you need to use a nanny service, it's available for you.
The big payoff will come when you meet your nanny at the airport and welcome your fuzzy, wiggly bundle of love, rested and ready to go home with you!