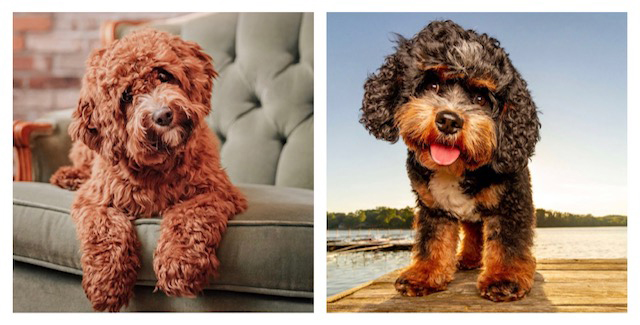 Coming Soon!
ANNIE + KIRBY
These 2 have honeymooned and we expect them to be Proud Parents in a couple of months!
Due date 23 December 2022, with go home late February 2023. 
Multigen Cavapoos, 10-20lb estimate, possibility of red, red parti, red tuxedo, tri and phantom abstract colors. Wavy to curly fleece coats. They will be low shedding.
Watch for updates! If you haven't yet filled out an application, now is the time!
Remember the stunning color patterns on Alfie and Daisy? Kirby is their Dad!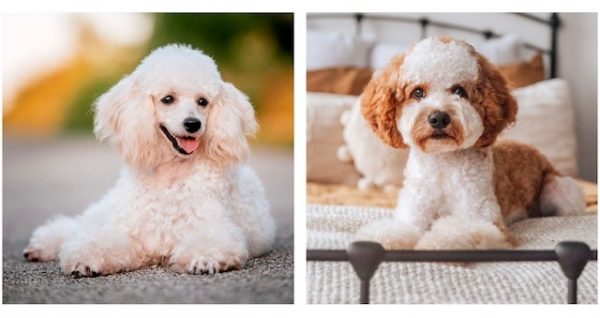 VIOLET + ALFIE
Violet and Alfie Cavapoo have had a lovely extended honeymoon and we can confirm that they are expecting a  beautiful little holiday family.
F2B, apricot with white and red with white, allergy friendly fleece coats. Wavy to curly coats. 10-20lb estimated size. Due December 22nd 2022, with go home date mid to late February. 
You might want to fill out a Puppy Application to get in line for approval to adopt one of these little fuzzballs. Violet's whitest white and Alfie's reddest red should be gorgeous!
Remember, please — we don't have an official waitlist. And you must be approved before you can reserved a Maple Hill Doodles puppy.
These are examples of the color ranges of our Cavapoo puppies for sale, from past litters. For our upcoming puppies, we will update the page as soon as we have a successful breeding, with the estimated due date and all the details. Learn more about the Cavapoo Breed — click on the collage!
And by the way — have you reviewed our process for adoption yet? If not, please take a moment to read through the information to better understand what to expect.
FAQs About Adopting a Cavapoo Puppy
If you have never raised a Cavapoo puppy, you will of course want to know all about it. They are the sweetest, cutest little snugglers on the planet! Here are answers to some of the most frequently asked questions.
Are Cavapoos hypoallergenic?
Hypoallergenic means – they are less likely to affect allergies. That's entirely different from 'allergy free'. We do genetic coat testing to breed the most allergy friendly puppies we can and most families with allergies do well with our puppies. 
Do Cavapoos shed?
They are considered low-shedding dogs. This means there is minimal shedding of fur. Still, they appreciate regular grooming to avoid mats and develop a healthy coat.
How big do our Cavapoos get?
They generally range from 10 to 20 pounds. Just right for cuddling on the couch and traveling! 
How much does a Cavapoo puppy cost?
Our prices range between $2400 and $2500 for a sweet little bundle of puppy kisses.
What is a Cavapoo's lifespan?
12 to 15 years is the average lifespan for a Cavapoo.
What's the temperament of a Cavapoo?
The typical Cavapoo is very loving, sociable, and moderate energy. They like going on walks and learning new tricks, but are happy to relax with you afterwards and tend to insist on snuggle time! 
Are Cavapoos good with kids?
Because of their petite size, they are better with older children. For families with little ones, we feel the CavaDoodle is a better option as they're a little more robust but still a nice small-medium size. 
Do you health test your Cavapoos before breeding? 
Yes – Part of ethical breeding is screening parent dogs for the most common issues by utilizing genetic testing and OFA certifications. 
I reached out to Maple Hill Doodles last
summer, and finally was able to take
Theodore home this February! He is the
absolute sweetest teddy bear! We had such
a positive experience with Maple Hill, and we
could not be any happier.
Andrea did an amazing job and took care of
all the pups super early, making them
comfortable with crates and with pottying
outside. Theodore did extremely well on the
car ride home and still enjoys car rides! He's
super smart and picks up things super well.
He knows how to sit and lay down, as well as
stay in the crate until released (all learned
within the first 1.5 weeks).
Andrea is super knowledgeable and answers
all questions I had about bringing Theo
home. We received constant updates and
pictures of our pup, as well as a care
package to take home to make sure that he's
all set! He's super healthy and loves kids/other
dogs! Super excited to continue to watch him
grow. 🙂
 – Amanda U

Have you heard about our guardian program?
Our guardian program is the term we use when a family has one of our amazing breeding dogs living in their home full time. The dog is placed with the guardian home at no initial cost for you and stays with you for the majority of her life, except for when she is being bred, or having and whelping puppies.
Interested?  Click on this adorable photo!
For information about our Cavapoos, not found on the website, please contact us using the form below. For other questions, check the FAQ section, listed below.