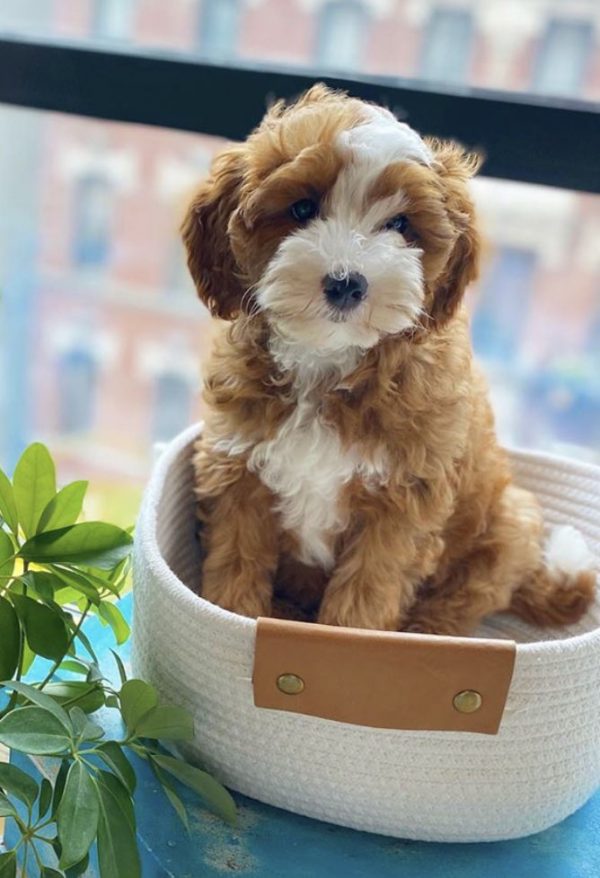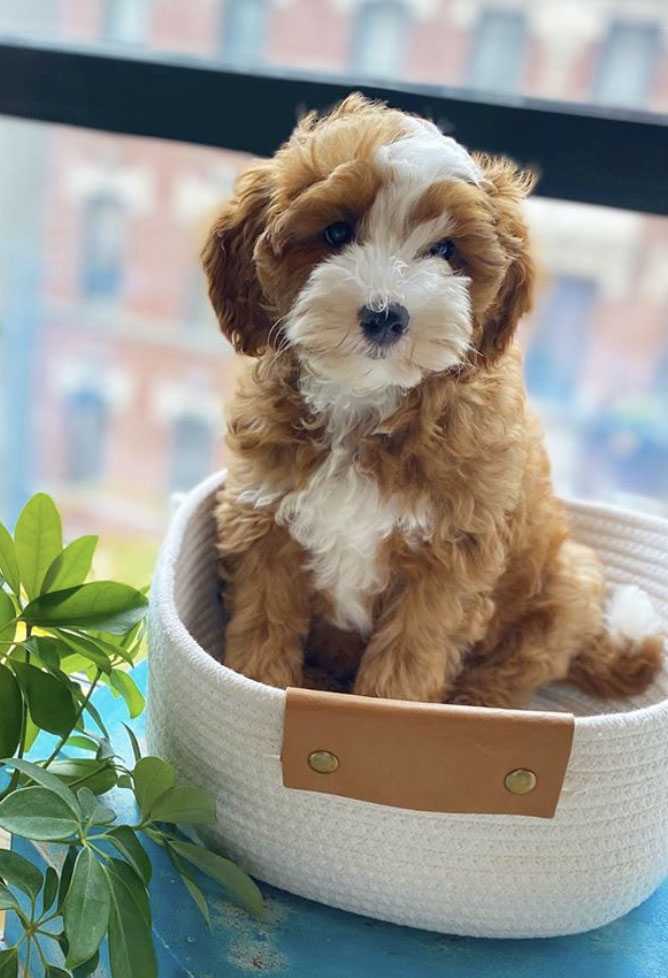 Fall in Love with The Cavapoo Breed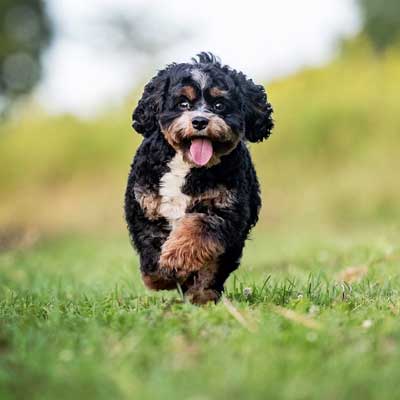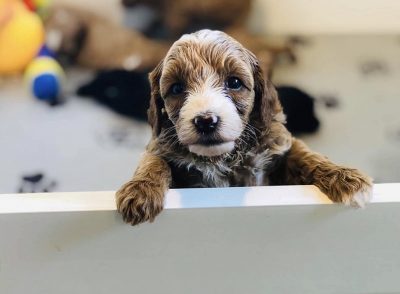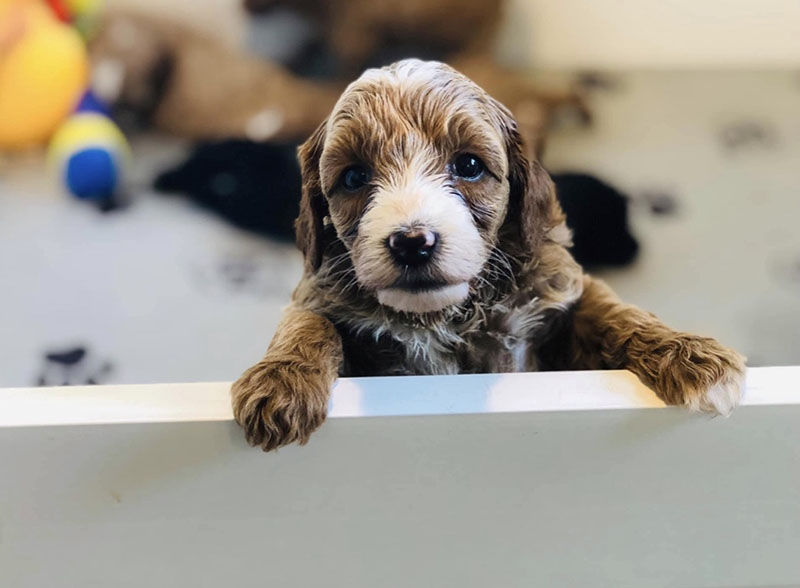 The Cavapoo is a wonderful breed for the slower paced household, where snuggles are welcome after a leisurely walk in the park. Cavapoos are the smallest of the breeds we raise, but there's a lot of loving, licks and wagging in any of our puppies. They are loyal and intelligent, and their goal in life is to please you.
Cavapoos love everyone – people, other dogs, even cats. So, they'll happily fit in with a multi-pet family. But they're sensitive, so go easy on rough and tumble play, especially when you first bring home your new puppy. Give them plenty of affectionate attention, and they'll respond by becoming a sweet little family companion.
What Exactly Is a Cavapoo?
The Cavapoo (also known as Cavoodle) is a small breed resulting from the combination of a Cavalier King Charles Spaniel and a Poodle. She gets her sweet disposition from the Cavalier and her intelligence (and curly coat) from the Poodle. Because she comes to you with 'naturally curly hair', shedding is minimal. Cavapoos can be classed as hypoallergenic. That means that their coat is allergy friendly.
Because your Cavapoo's curls tend to trap the coat that does shed, she'll need regular grooming. Gently brush and comb her, paying particular attention to her ears, fuzzy little face, and paws. Those areas are the first to develop mats, which are a hassle to remove and can be painful. Frequent, proper use of a slicker brush will result in healthy skin and a beautiful coat.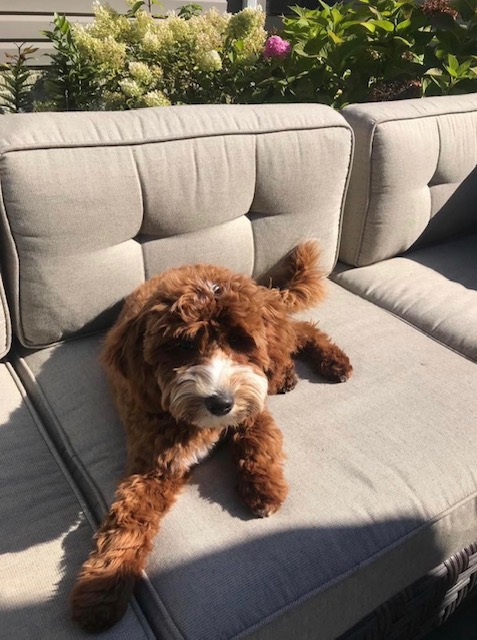 Cavapoo Puppies Raised by Responsible Dog Breeders
Searching for the perfect Cavapoo puppy can be very confusing. Because they're small and lovable, the Cavapoo breed is very popular. How can you be sure you've found the best puppies from a reputable breeder? For starters, investigate our genuine testimonials from happy families!
All of our puppies at Maple Hill Doodles are raised in our home. We begin gentle training at 3 days using Early Neurological Stimulation (ENS). Our Cavapoo puppies are well adjusted, healthy, inquisitive and unafraid of normal household activities (like the vacuum cleaner, garbage disposal or blender).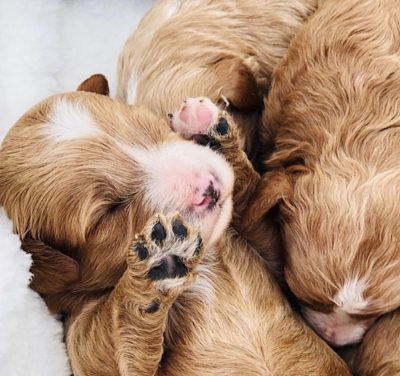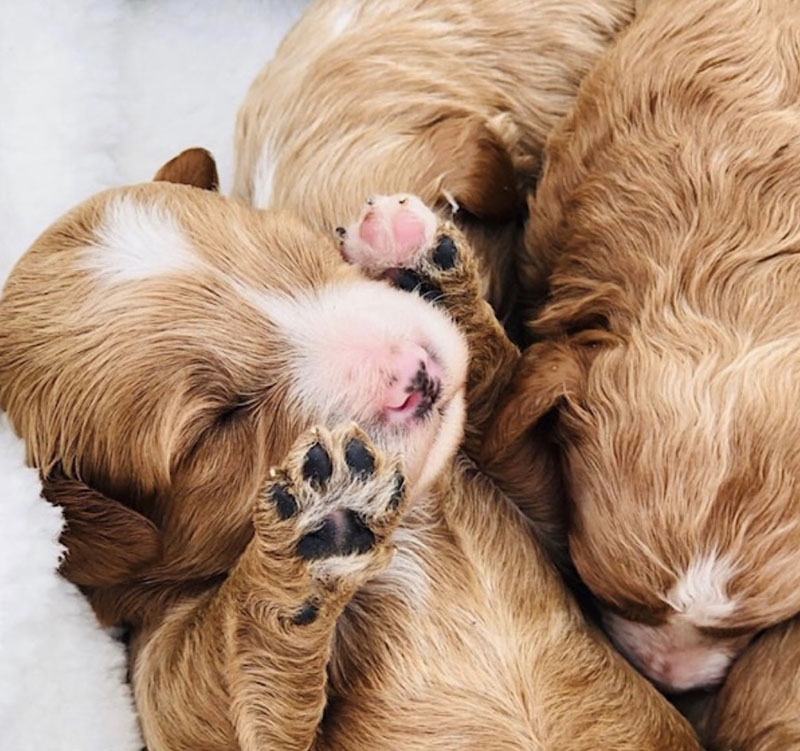 Why We Are Natural Rearing Breeders
Our puppies thrive on a natural diet, and along with that, we use a holistic health care approach. Of course, every puppy is thoroughly vet checked for good health. And it shows. Their eyes are bright, they're active and playful, and they love to be with people.
Find us in the Natural Rearing Breeders Directory. Our dogs do not live in kennels. They are part of our family, in our own home.
Contact us if you're looking for a Cavapoo puppy in Ohio. We'll be glad to help you learn more about this adorable breed, our breeding philosophy, and puppy choices. Our puppies are placed only with families who intend to provide a forever home for their new companion. If you share our commitment, then you may be ready to add the joy of a Cavapoo puppy to your life.
FAQs on Adopting a Cavapoo Puppy
If you have never raised a Cavapoo, get ready for a rewarding experience. There are some things you should know, however. Here are answers to some of the most frequently asked questions.
Are Cavapoos hypoallergenic?
The word hypoallergenic means that they are less likely to trigger allergies. All dogs shed to varying degrees. Cavapoos shed minimally, but don't neglect their grooming. Frequent gentle brushing will keep them (and you) more comfortable.
How big do Cavapoos get?
Our adult dogs can range from 10 to 20 lb, depending on the size of the parents.
Are Cavapoos nervous?
Their temperaments will be a reflection of their home life. If the family is calm, their Cavapoo will be calm. Generally, they are loving and sociable. They like to chill with their human friends.
Are Cavapoo puppies easy to potty train?
Smaller breeds can be a challenge to housebreak, compared to the bigger breeds. It's a marathon, rather than a sprint. With consistency and praise, you'll be successful.
Read more tips about puppy housebreaking here.
What is a Cavapoo's lifespan?
The average lifespan for a Cavapoo is 10 to 15 years.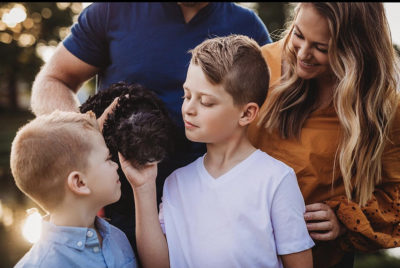 "Maplehilldoodle Doodles is AMAZING!! Our cavapoo, Jersey, is one of the sweetest, smartest, and most athletic dogs. I keep telling my husband that she is one of the easiest and calmest puppies we have ever had. We are truly blessed to have Jersey in our lives!! We are so happy to have found Maplehilldoodle Doodles!!" ️ – KC

Have you heard about our guardian program?
Our guardian program is the term we use when a family has one of our amazing breeding dogs living in their home full time. The dog is placed with the guardian home at no cost for you. She stays with you for the majority of her life, except for when she is being bred, or having and whelping puppies.
For more info, click on the adorable photo!
For information on our Cavapoo puppies for sale, or any upcoming litters, please contact us using the form below. For other questions, check the FAQ section, listed below.