UPCOMING GOLDENDOODLE PUPPIES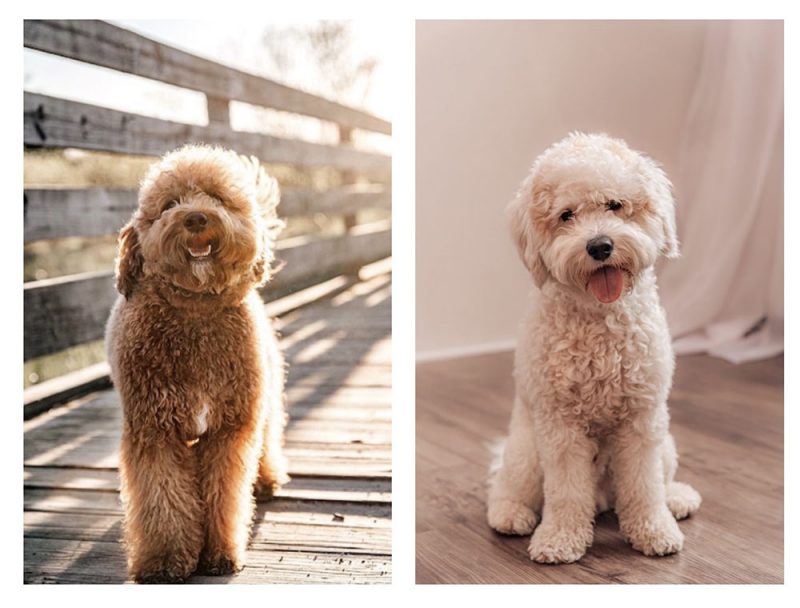 ANNABELLE + TOBI
Annabelle and Tobi Goldendoodle have had a wonderful honeymoon and are now expecting their new family!
Multigenerational, red/white and apricot/white, wavy to curly, low shedding and allergy friendly fleece coats, 25lb to 35lb estimated weights.
Due November 5th with a go home time the first week of January 2023.
You may fill out and submit an application (link below) in as much detail as possible. We will contact you, if you've been approved, and let you know the next step.
— Please note — We do not keep an official waitlist.
These are examples of the color ranges of our Mini Goldendoodle puppies for sale, from past litters. For our upcoming litters, we will update the page as soon as we have a successful breeding, with the estimated due date and all the details. Learn more about the Mini Goldendoodle Breed — click on the collage!
FAQs on Adopting Your Mini Goldendoodle Puppy
If you have never raised Mini Goldendoodle puppies, here's the deal — it's a hoot! But there are some things you should know. Here are answers to some of the most frequently asked questions.
How big do your Mini Goldendoodles get?
Ours range from 25 to 35 pounds in weight. There are actually 4 different sizes of Goldendoodles: Petite, Mini, Medium and Standard.
Are your Mini Goldendoodles health tested before breeding?
Yes, absolutely! It is important that parent breeds have genetic and OFA testing in order to minimize the risk of passing down hereditary disease.
What's the price range for a Mini Goldendoodle puppy from Maple Hill Doodles?
Currently our Mini Goldendoodles are priced between $2000 and $2100. Visit our pricing page for more details.
Do you offer delivery options for your puppies?
Absolutely! Because we are one of the few holistic Goldendoodle breeders, we have families from all over the United States that seek us out. Although we will not 'ship' a puppy in cargo, we will help arrange for your puppy to be hand delivered to your nearest airport by a flight nanny. 
I'm ready to adopt a Mini Goldendoodle puppy, what's the next step? 
You'll want to read over the
adopt process
and also our blog articles that are packed full of helpful information. If you believe we would be a good fit,  the next step would be to fill out an application. For approved applicants, we will reach out within a week to let you know. 
How often do you have Mini Goldendoodle litters? 
We only have a few litters a year. We believe in quality over quantity which means we don't have puppies available all year. But we promise they are worth the wait!
Do you include anything with the puppy when we pick her up? 
Yes. Your puppy comes with a copy of the 2 year health warranty, vet records from their first check up and also a baby blanket that smells like mom and siblings, to make the transition easier.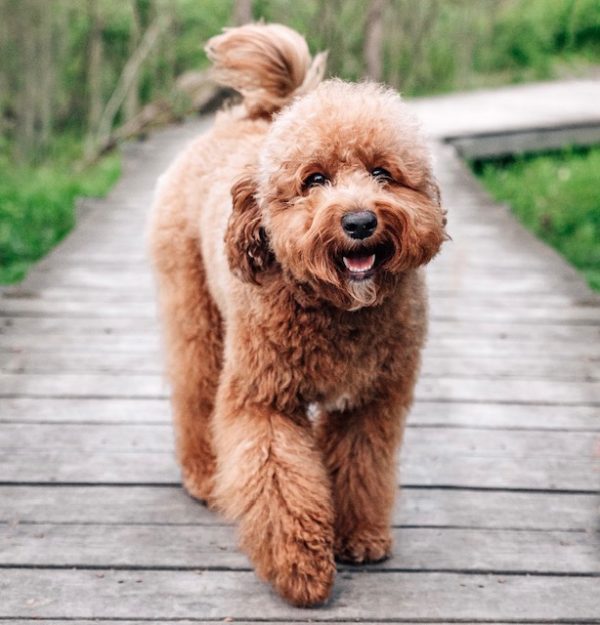 We have had the BEST experience with our little boy from Maple Hill Doodles! The first day we brought him home, he was already so well behaved and has been so EASY to train ever since! Within 2 days he was responding
to his name, 4 days in he was sleeping almost completely through the night (5-6 hours between potty breaks), and after a week he knows how to sit and potty training is improving daily.
We can tell that he had such a loving first 8 weeks of life by the way he acts and behaves. Amazing breeder and we will be getting our next one from them too! 
– Heather C

Have you heard about our guardian program?
We believe each of our breeding dogs deserves to be part of a forever family and remain in the same home, for the entirety of their lives. In order for that to happen, we have made guardian homes an integral part of our program.  If you're interested in participating in this program, or to learn more, click the photo above.
For information not found on the website, please contact us using the form below.