EXPECTING CAVADOODLE PUPPIES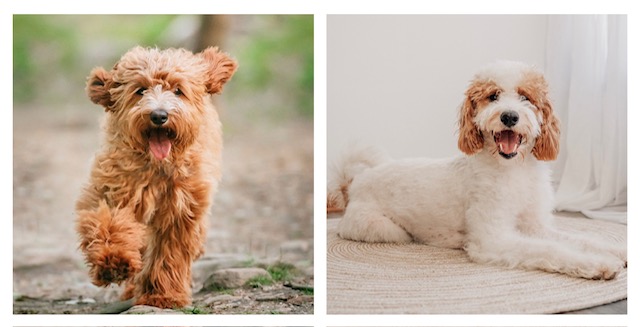 HAZEL + LENNY
Proud Parents
Hazel and Lenny's precious CavaDoodle Puppies were born on 24 June 2023. Go home date 19 August 2023.
Just one spot available — check out our adorable Red Collar Boy! He's sure to steal your heart.
Keep up to the minute by dropping in at our Facebook page for more frequent updates.
Here's a few of our totally adorable CavaDoodle puppies from previous litters for your enjoyment!
To learn more about the CavaDoodle breed, click on the collage.
And also — it's never too early to make sure you have everything ready to welcome your new cuddly little CavaDoodle puppy. Click on the Puppy Supplies link to check your list!
FAQs on Adopting a CavaDoodle Puppy
Maple Hill Doodles breeds CavaDoodle puppies for sale in the Cleveland, Ohio region. Thanks for your interest! If you have never raised a CavaDoodle puppy, here are answers to some of the most frequently asked questions.
Are CavaDoodles hypoallergenic?
The answer is yes, but… Hypoallergenic means – they are less likely to affect allergies. Remember that it doesn't mean 'allergy free'.
Do CavaDoodles shed?
They are considered non-shedding dogs. This means there is minimal shedding of fur. However, daily brushing is essential for a healthy coat.
What is the temperament of a CavaDoodle?
Most CavaDoodles have the friendliness of a Doodle with the Cavalier adding a calm and sweet nature — mellow and easygoing. Your puppy will quickly become your best friend!
How big do CavaDoodles get?
Our adult dogs range from 20 to 35 pounds in weight, depending on the size of the parents.
What is a CavaDoodle's lifespan?
10 to 15 years is the average lifespan for a medium-size CavaDoodle.
Are CavaDoodles the same as a Cavapoo?
Good question- They are similar but not the same cross breed. A CavaDoodle has Cavalier and Poodle, like a Cavapoo. But also a bit of Labrador Retriever to help make them a well rounded family dog! Still small enough for traveling and snuggling up with, but big enough for long walks and playmates for children.
Are CavaDoodles good with kids?
CavaDoodles are wonderful with little people, as long as your kids understand 'gentle hands' and have appropriate parental guidance. Involving children with training the new puppy is also a great idea!
How much does a CavaDoodle puppy cost?
Our prices range between $2000 and $2100 for a sweet little bundle of puppy kisses.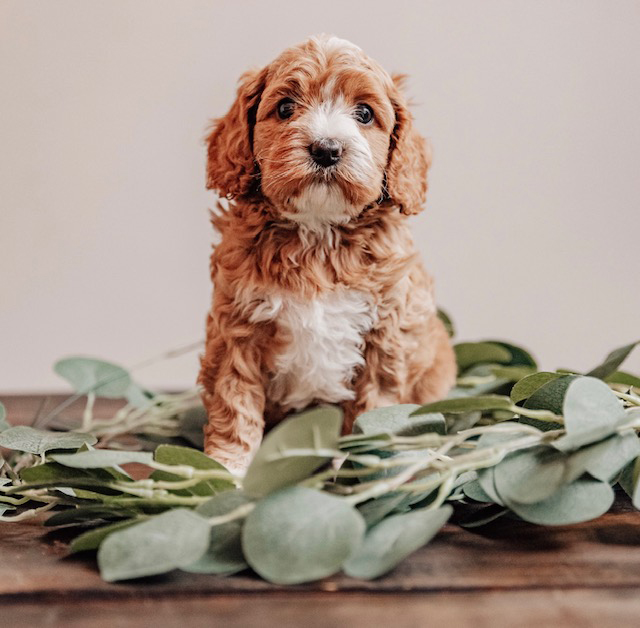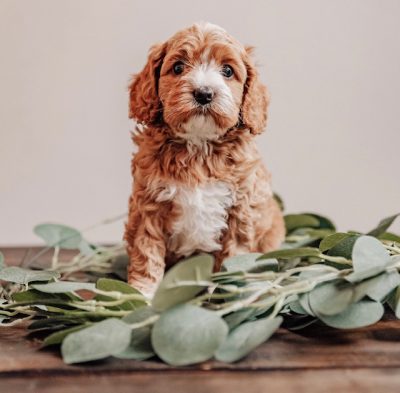 Recently brought home my 8-week-old Cavadoodle puppy from Maple Hill Doodles and I am absolutely thrilled with her. She is everything I hoped she would be: sweet, cuddly, playful and adaptable. She's the perfect companion and has been learning quickly. I so appreciate this pup's thoughtful breeding and upbringing. I chose Maple Hill Doodles because I wanted to make sure I was supporting a responsible breeder who truly cares about the dogs and I certainly found that. Thank you so, so much for my new best friend! 
 -Lindsay P.