The Story of Maple Hill Doodles
Located in Burton, Ohio, chapter 1 of the story of our Maple Hill breeding venture started in 2001, with a single toy poodle. Due to family allergies/asthma, we searched for a dog that was allergy friendly, and that's how we decided on a poodle. Several years later, we discovered what standard doodles were, and incorporated them into our small breeding program. Growing up with retrievers, it was the perfect solution to have the best of both worlds!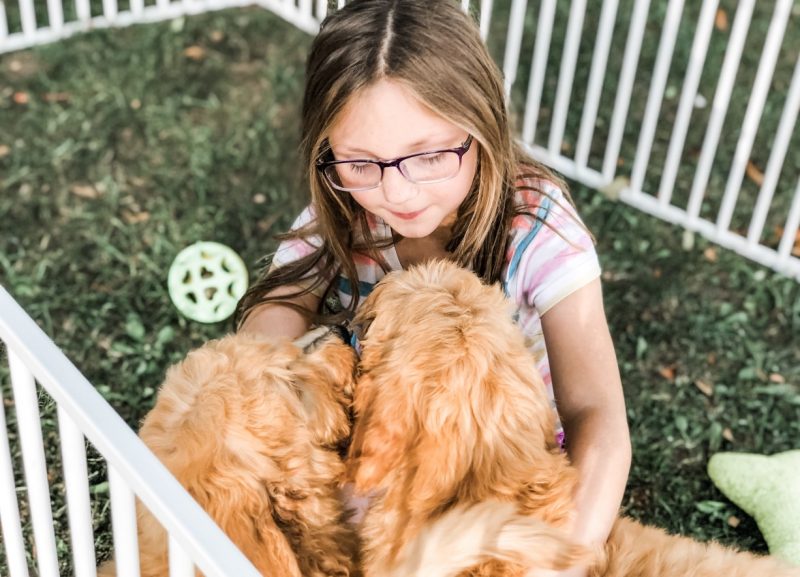 We started out as very small 'hobby' breeders. Not only were we enjoying breeding our poodles but we were also busy growing our human family! It was a super busy time. But having little ones helping to socialize and desensitize the new puppies to children was a great benefit. Now that they're older, their roles have changed but they're equally involved in our program. Especially with ENS, and the technology side of things. It's truly a family affair!
Chapter 20 of The Story of Maple Hill Doodles
In the last almost-20 years of breeding, we have evolved in many ways. One major change is the advancement of proper and accessible health testing for breeding dogs. Which we have fully taken advantage of, and all our parent dogs now have OFA hip certification, and genetic testing.
Another way things have changed is what we put in and on our dogs. We started out feeding what we thought was top of the line food (kibble), giving yearly vaccines boosters, and harsh topical flea prevention monthly. After much research, and personal experience, our breeding program has shifted to natural rearing. This is something we're very passionate about and more than happy to share what we have learned with prospective families!
One thing that will not change at Maple Hill Doodles is our stance on parent dogs being pets first and foremost. All of our dogs are either living in our home, or living with a guardian family, then coming back here to whelp. When you adopt from us, you can rest assured puppies AND adults live comfortable and enriched lives.
If you have any questions/concerns about us or our breeding program, feel free to send us an email!