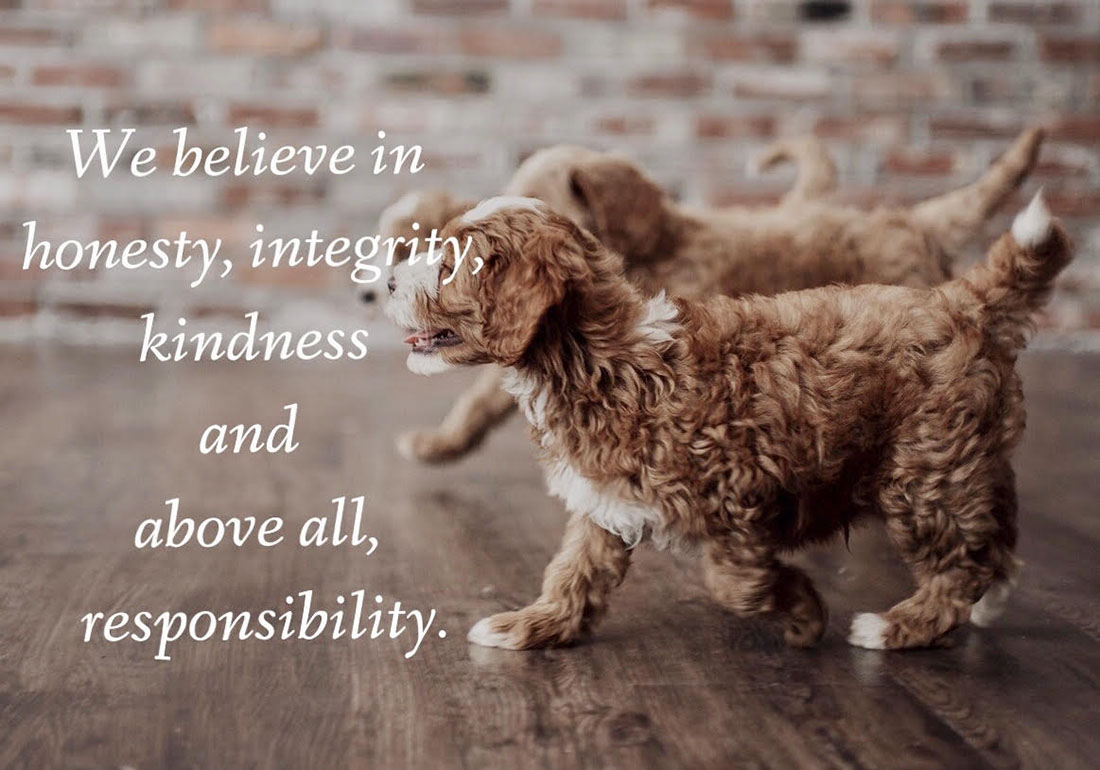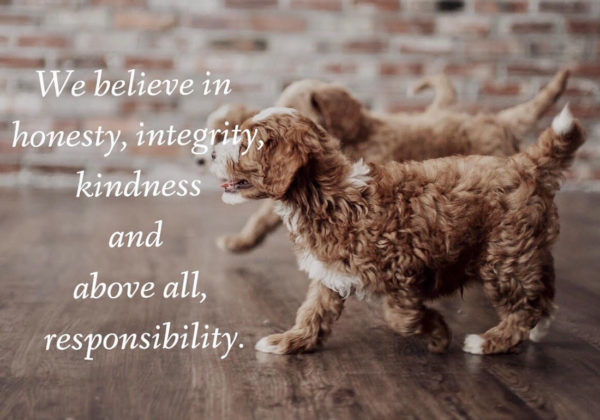 Code of Ethics
'We believe that families seek out breeders in whom they can place their trust. We also believe that conduct that is hurtful to the reputation of Maple Hill Doodles is also hurtful to the reputations of all breeders. It is with these beliefs in mind that we establish this Code of Ethics.'
Please note:  Whether applying for a puppy or for a guardian dog, an offer to buy your way into cutting in line will be an automatic decline.
Our dogs will live in our home or a guardian home as a family member. We will never use kennels.
Every puppy will be examined and cleared for sale by a licensed veterinarian. Any known health issues will be disclosed before going home.
We will never compromise in the placement of a puppy. Every family will be thoroughly vetted, and must understand the responsibility and commitment a puppy requires.
We will not allow a puppy to leave for its new home until at least 8 weeks of age.
We will never accept payment or other incentives to shorten the waiting period for adopting a Maple Hill puppy or guardian dog.
Each breeding will be planned with thoughtful research, and always intentional. Including (but not limited to) conformation, temperament, and coat traits, our intent is to breed for the best possible outcome.
Every puppy will have a 2-year genetic health warranty, and we will provide a copy before completion of the sale.
We will take back any dog we have bred, for any reason, or assist the owner in finding a suitable home.
We will never knowingly sell puppies to pet stores, brokers, kennels, or wholesalers.
All puppies going to pet homes will be sold on a spay/neuter contract.
We will keep and properly care for all puppies until we find suitable homes. We will not discount older puppies or relinquish to rescues/shelters.
We will not breed any dog that is not physically/emotionally mature, or that has failed OFA and/or genetic testing.
We will not participate in price gouging during times of high demand.
We promise to be reasonably available to puppy families, both before AND after the sale.
We will never deliver a puppy via cargo or deliver with a commercial transporter. Our policy in long-distance deliveries is to provide a nanny (at client expense – please read our options for delivery) to accompany the puppy.
We will never accept payment or free products in exchange for endorsements, including affiliate links and multi-level marketing products.
A good dog is a precious gift. It is our responsibility to make sure every puppy we breed has the best chance of growing into the best dog for your family. For more information, read About Us at Maple Hill Doodles.