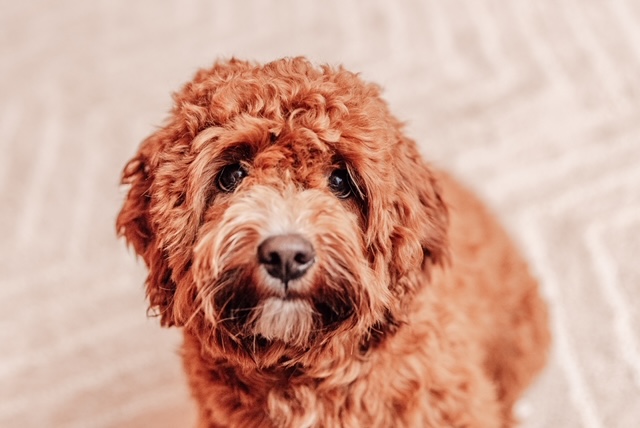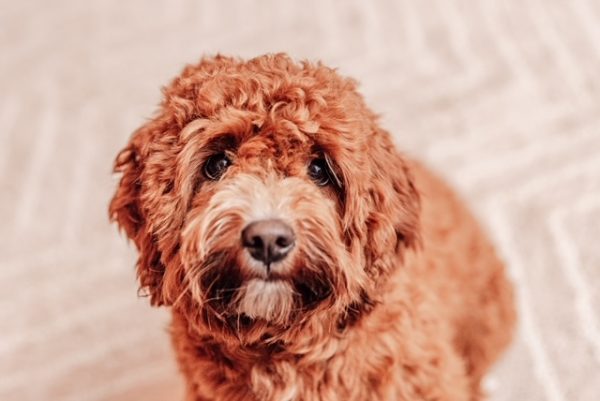 FAQs
After I fill out an application, how soon can I expect to be contacted?
If you're a candidate for approval, we'll contact you within a week to follow up. After that, we may schedule a phone interview. Because of the many applications we receive, we regret that we cannot personally reply to each one.
If your application isn't approved, you will not be contacted. Due to the high volume of applications, we are not able to reach out to those who were not approved and provide an explanation, similar to how a job application would work.
Are your puppies non-shedding?
There is no such thing as a 'non-shedding' dog. But there are breeds (or breed mixes) that are lower shedding. Poodle crossbreeds are generally considered lower shedding than a double coated breed. We also are not able to accurately predict or guarantee how much your new puppy may end up shedding.
How much are your puppies?
Prices are between $2000 and $2500 depending on the breed. Visit our Pricing page for more information*.
*$100 discount for police, fire and military.
What comes with my puppy?
Your puppy will come with vet records, contract, and blanket that smells like mom to make the transition easier.
How can I reserve a puppy?
If you have an approved application, and have completed the phone interview, you are free to reserve any puppy that is not yet spoken for.
We accept reservations via electronic invoice that we will email once you have made your selection. You may use a credit card, debit card or checking account.
We no longer accept paper checks and cash is due at the time of pick up.
Do you accept payments?
We do not offer payment plans. Payment in full is due at the time of pick up. If a puppy is traveling with a flight nanny, payment will be due the day before the scheduled flight.
Are reservation fees refundable?
Reservation fees are NOT refundable. The fee you pay to reserve a puppy is for a service that was provided and also your guarantee to follow through with a purchase.
If I change my mind and decide I no longer want the puppy, will you refund any part of the purchase price?
In the application it states no refund for any reason, as well as in the contract. We don't refund either the reservation fee or any part of the purchase price. Our vetting process is very thorough. Once a family is approved, we expect them to be committed throughout the life of the dog. Puppies are a ton of work, that's true, a lot like a new baby human. Be very sure you and your entire family want to take on the responsibility for your new furry family member, before you commit to adopting a puppy from Maple Hill Doodles. Adopting Your Puppy the Right Way is a good start to understanding just what's involved.
Is a CavaDoodle the same thing as a Cavapoo?
We are asked this question all the time. The answer is no, they are not the same breed, but they are similar.
The Cavapoo is a mix of Poodle and Cavalier King Charles spaniel, percentages vary.
A CavaDoodle, not to be confused with Cavoodle or Cavapoodle, is a blend of 3 breeds. Mainly Poodle and Cavalier King Charles Spaniel, with a bit of Labrador Retriever. We keep the percentage of Lab low on the mix so as not to increase the size too much or increased risk of shedding.
The goal of this breed mix was to create a more family friendly, medium size dog, particularly for families with younger children where a smaller Cavapoo might not be the best fit.
What size will my puppy be?
Size estimates are just that — an educated guess, based on the sizes of the parents. The genes contributed by the grandparents on both sides also come into play. We do our best to arrive at a size range, but it's not a guarantee. Please realize that your puppy may grow to be larger or smaller than expected. It's a heredity thing!
I have been communicating with you about a particular puppy I wanted but I see it's no longer available, what happened?
All puppies remain available to other approved families until they have a reservation to hold them. If you have already been approved, and have your heart set on a certain puppy, a reservation fee payment is the only way to hold him/her.
Do you allow visits?
We are not able to accommodate visits from the general public at this time. Please see our Visitation Policy for more information.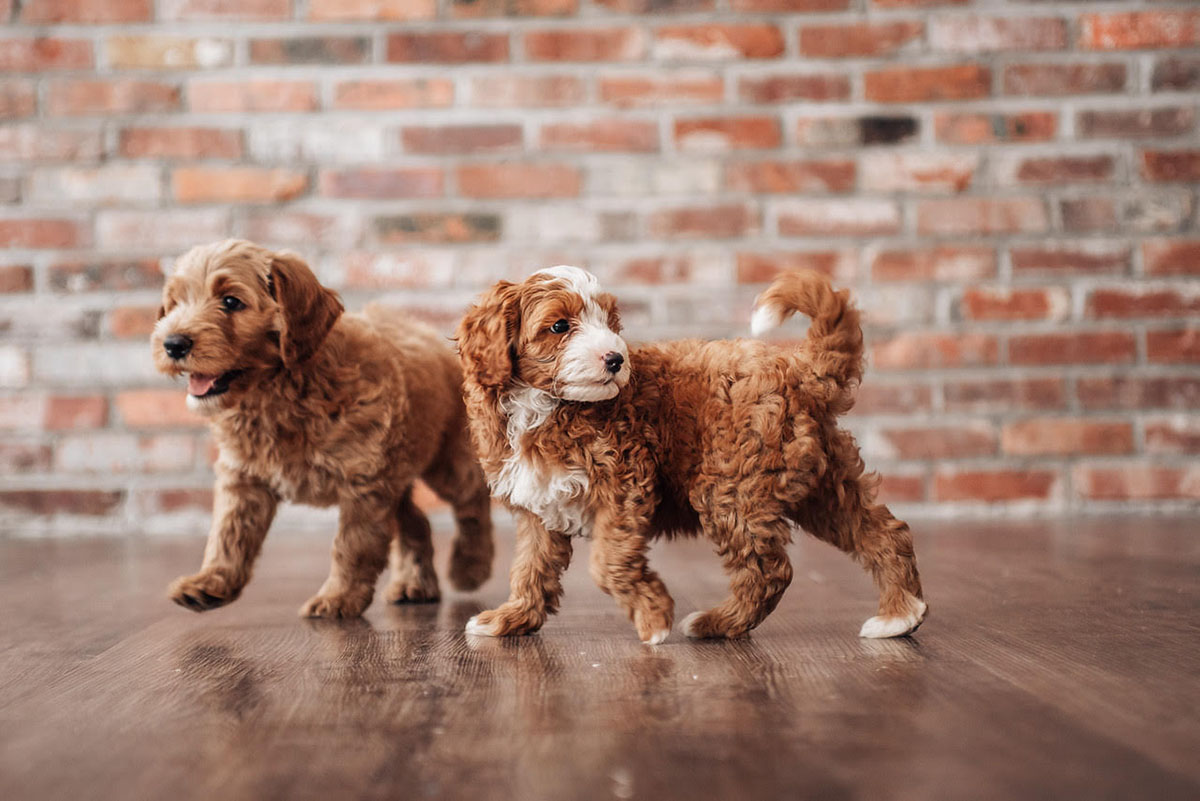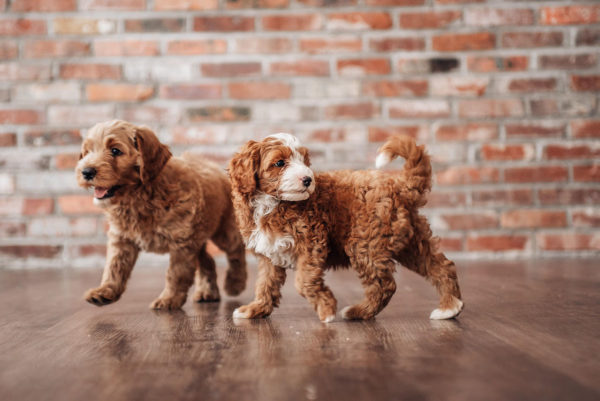 Are your puppies raised in your home?
Yes! It's important for puppies to be part of family life from day one, as they are companion dogs and will be family pets when they leave us. Not only are our puppies raised in home, but our parents dogs are also living their best life with us or their guardian families. We don't believe kennels or outbuildings have any place in our breeding program.
What generation do you breed?
Most of our puppies will be 'multigenerational', meaning there is no filial label (F1, F2, etc) but we occasionally have an F1B litter for the Cavapoos. We will never have F1, due to the inconsistency in coat traits, for shedding and allergy friendliness.
Where are you located?
Burton, Ohio, 44021
I live out of state, can I still purchase a puppy?
Absolutely! We offer a few different options for pickup of your new puppy. By plane, we can recommend an in cabin flight nanny that will meet you at your nearest airport. Door to door delivery if you're located within 200 miles of Burton, Ohio. We can also meet (free of charge) up to 60 minutes from zip code 44021. Visit our Delivery Options page for more information.
I don't see a phone number listed on your website, how may we get a hold of you?
In a perfect world, we'd love to talk about our puppies all day, every day… after all, we think they're pretty wonderful!
However, in the less perfect world, that includes a lot of behind the scenes work. Puppies are not just adorable, they require a good chunk of our attention. Whether it's puppy snuggles, cleaning, feeding, more snuggles, enrichment, exercise, training, playtime, and did I mention snuggles???
Not only do puppies require our time and attention, which is a labor of love, we have all the usual non breeding business obligations. Cleaning, cooking, appointments, kids activities, plus just setting aside time to disconnect and do nothing at all!
While we do talk to every single adoptive family on the phone (that's important to get to know each other), in order to have a healthy work/family balance, initial communication is done through email or social media messenger… whichever is more convenient for you. We also have included a search feature on our website that will answer many of the questions that are commonly asked.
If you've read over our website, and feel as though we might be the breeder for you, the next step would be to fill out an application. Submit it and, if approved, we will reach out and schedule a phone call as the next step in the process. We also make ourselves available for phone calls once your puppy comes home and you have questions or concerns we can help with!
Why was my application turned down?
We would love it if every family was the perfect match. However, that's not always the case. There may be several reasons why we weren't able to match a puppy with you, from working away from home too many hours, family members not being on the same page in regards to adding a new puppy, plans to use invisible/electric fence, etc. Please note, we have to make a decision based on what's in our puppies best interest, even if it's not a popular one.
Do you have references?
We do not give out the phone numbers or personal info of clients. It's important that we respect their privacy. But we DO have several testimonials on our Facebook page from our puppy families and well as google reviews.
What is an ovary sparing sterilization? How is it different?
In certain situations, we may elect to have our vet perform an ovary sparing sterilization, at no extra charge to you, which can be done much earlier in a puppy. As might be guessed, the puppy's ovaries are left in place to produce and release the hormones she'll need for normal development. But she cannot be bred. This is at our discretion, to prevent any chance of one of our babies ending up in a puppy mill situation.
Similarly, we may have our vet do a vasectomy on a male puppy. The necessary hormones will still be produced for normal growth, but the dog cannot sire any puppies.
These decisions will be on a case by case basis, solely at our discretion and buyer agrees they may received a sterilized puppy.
Unfortunately, in the last few years, brokers, puppy mills and BYB's have been purchasing puppies from reputable breeders, not being honest about the true intent and the puppies end up living in outside sheds, stacked cages, garages, etc.
Our goal is to make sure every puppy we produce will live a happy, healthy and safe life as a loved family member. That is why we make our puppies undesirable to these types of breeders by retaining to the right to safely sterilize them before they ever leave our home.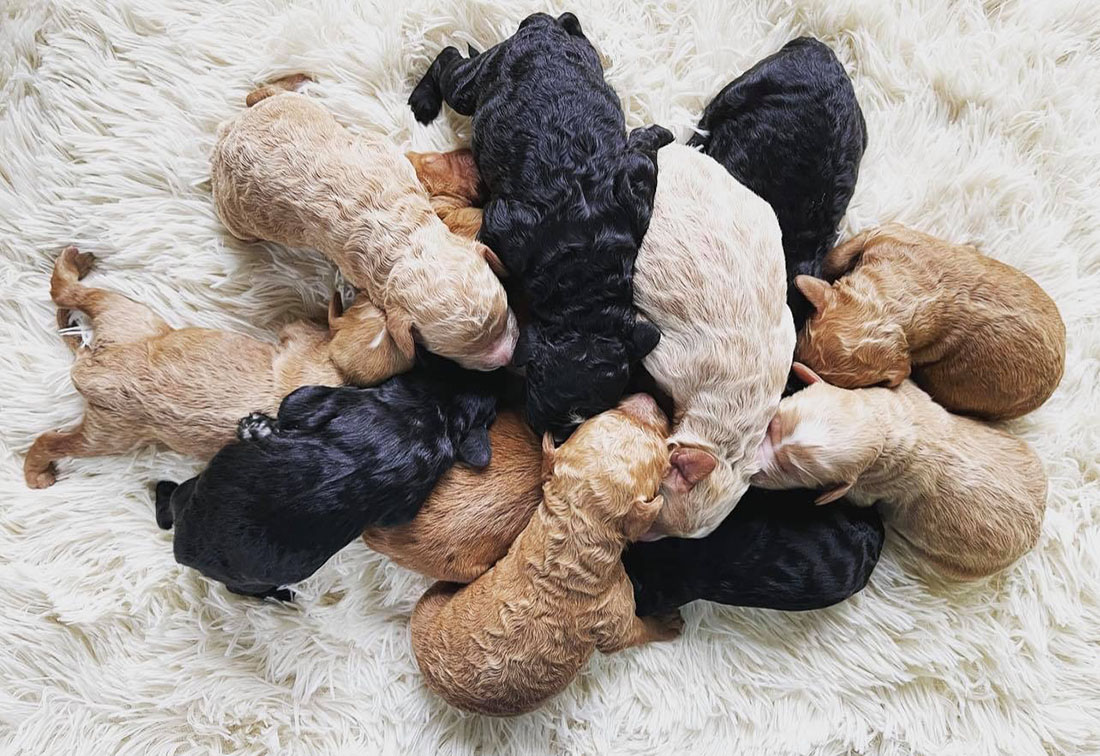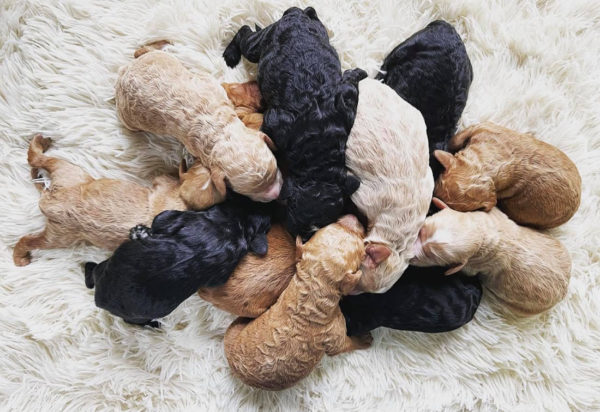 How often can I expect updates on my puppy?
We post weekly (more if we have time) updates on our social media pages.
At what age can I pick up my puppy?
The puppy must be at least eight weeks old, and we cannot make exceptions to this. It is our rule and state law.
Do you remove dew claws, or dock the tails on your puppies?
No, we do not amputate
dew claws
or tails. It's not just painful, but they serve a purpose.
Dew claws are used by the dog to grip items for chewing, traction for running and also joint support. Removing them can lead to arthritis, muscle atrophy, and damage to ligaments.
Tails are also an important part of the dog. They are used for communication, balance and swimming. Not only is tail amputation painful, but there is a risk of infection, excessive bleeding, and atrophy.
Refer to this illustration to get an idea of how the dew claw is connected to the tendons of a dog's paw. As you can see, even though the dew claw appears to be just stuck on to the side of the 'wrist', it's integrated into the structure.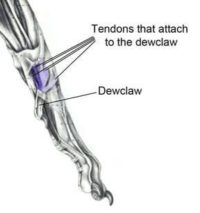 Will my puppy be already microchipped?
The jury is still out on the long term safety of microchips. As with any foreign object inserted into the body, there is a possibility of adverse reactions. Because of the unknown risk, we have decided to not microchip our puppies at this time. We will continue to research and reevaluate this decision if new studies show there are no long term health effects.
What is the difference between the Goldendoodle sizes?
For our Goldendoodles, we follow the guidelines according to the GANA (Goldendoodle Association of North America) standards:
Petite range: Height: below 14 inches, typically 25 lbs. or less
Miniature range: Height: over 14 but under 17 inches (35cm to 42cm) at wither, typically 26-35 lbs.
Medium range: Height: over 17 but under 21 inches (43cm to 52cm) at wither, typically 36-50 lbs.
Standard range: Height: over 21 inches (53cm to 63cm) at wither, typically 51 or more lbs.
We raise Mini Goldendoodles here at Maple Hill Doodles, and in future, we will possibly have some Petite Goldendoodles available as well.

Do you have a waiting list?
For a few reasons, we have stopped doing an official waiting list. Soon after the puppies are born (usually 7 to 10 days), we will have photos of each individual puppy posted on our website/social media. At that point, we will open the reservation list to hold the puppy of your choice. Filling out an application before the puppies are born does make the process more efficient, however!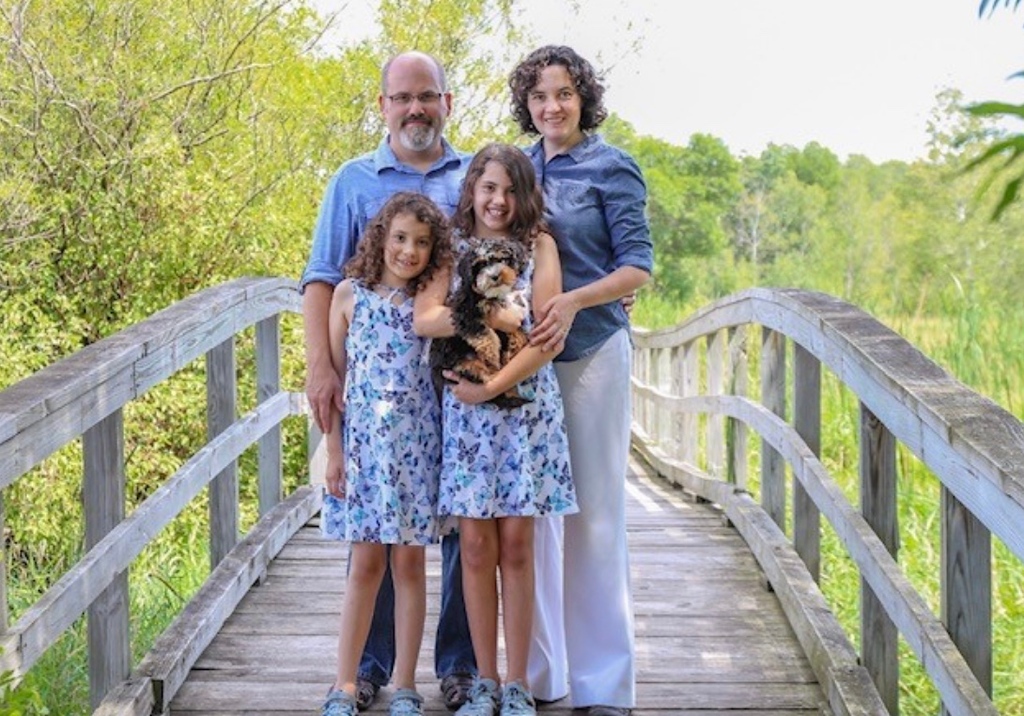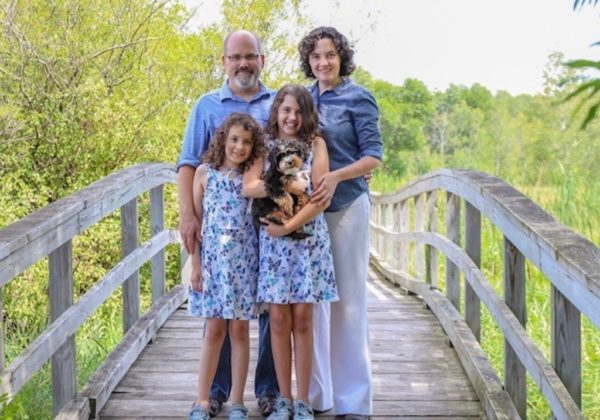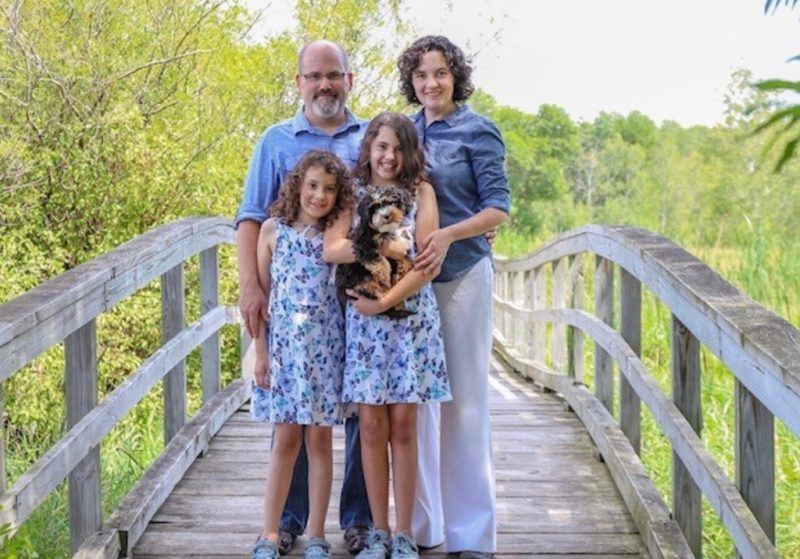 Is it true that you offer Guardian Dogs to save yourself a lot of money?
Not at all! In fact, our Guardian Dogs have fewer litters (usually 3) during their lifetime, as opposed to several litters. And we place them with an approved Guardian Family at no upfront charge. We also pay for all health testing, at least one professional photo shoot, and to spay/neuter. Learn more about our
Guardian Program
and what's involved by clicking on the link.
Won't a Guardian Dog be upset to leave her family while being bred and having her puppies?
Absolutely not, this is their second home. She was born here and will come back for play dates, or to stay with us while her family is out of town.
Read our blog post, Becoming a Guardian Family, for more details.
Do you offer discounts?
We are pleased to offer a $100 discount for the following: Military (active duty or veterans), fire fighters, and law enforcement, only. Please note these discounts apply to the person purchasing the puppy, and whose name will be on the paperwork as the owner.

Do you have recommendations for food suppliers?

We have a few we like but any supplier that sells prey model raw feeding diets and no 3-D or 4-D meats is fine.
Are your puppies non-shedding and hypoallergenic?
This is a complex question that is covered in more detail on our blog. But the short answer is all animals with hair 'shed'. The degrees of shedding vary from breed to breed. That being said, we use genetic coat testing to determine which dogs will shed the least (and most allergy friendly), very similar to the amount a poodle would shed. You can read more about it here: https://maplehilldoodles.com/hypoallergenic-non-shedding-dogs/
Are you able to hold the puppy longer if I'm not able to come on pick up day?
Yes, we are able to hold the puppy for up to 2 days, free of charge. After that, we can hold them at $50 a day, maximum of 1 week, if our schedule allows. Please keep in mind that this is important bonding time with the new owner and it may be better to hold off for the next litter if timing isn't right.
Will our puppy come with kennel registration papers (AKC, UKC, etc.)?
Unfortunately, there are no reputable kennel registries that will register cross breeds at this time. We look forward to participating, in the future, if that changes!
For information on any current puppies for sale, or any upcoming litters, please contact us using the Contact button. Find answers to breed-specific questions on the appropriate pages. For training-related questions, check out Useful Links and our blog posts!