Introducing The Goldendoodle Breed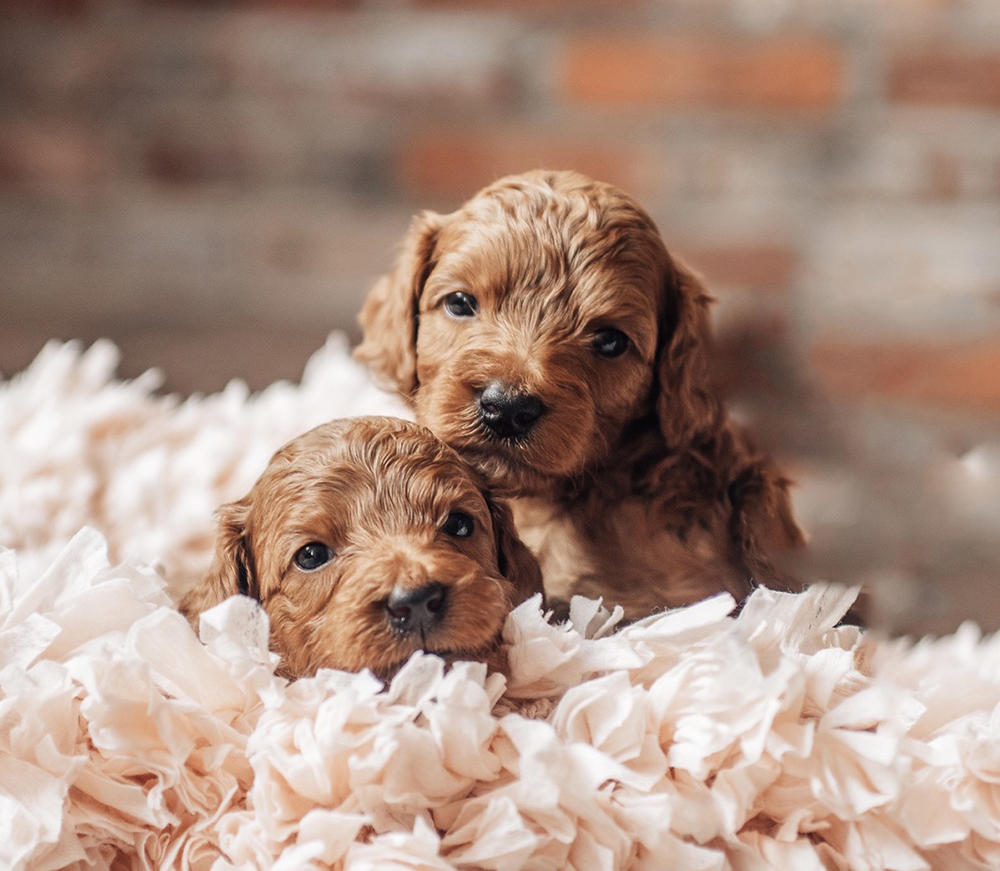 In our opinion, the Goldendoodle Breed is the perfect dog for families, especially with young children. Active, good natured and naturally comedic he loves being with his family (and sometimes insists on it). He's smart and catches on quickly to what you want. Our goal in breeding Mini Goldendoodles is to find the perfect balance of small size, intelligence and low shedding from the Poodle side with the friendly nature, and fun personality of the Golden Retriever.
What Is a Mini Goldendoodle?
To put it simply, a Goldendoodle is the result of combining a Golden Retriever and a Poodle. How big he will get depends on the sizes of the parents. We raise Mini Goldendoodles, and occasionally Petite Goldendoodles, because we know not everyone will be a good fit for a big dog. While we adore Golden Retrievers, adding a Miniature Poodle into the gene pool results in curly coated puppies who are much lower shedding and a compact size. 
Our Goldendoodle puppies range from 20 to 35lb by adulthood. They're big enough for outdoor adventure, but still small enough to take along on road trips. And when they sleep with you, they won't take up the whole bed!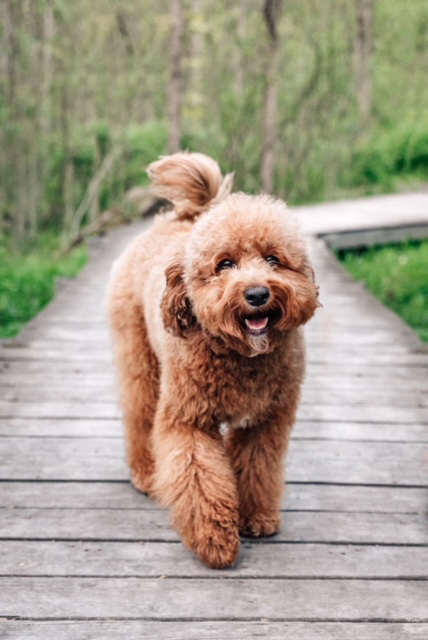 Mini Goldendoodle Puppies Family Raised
The Golden Retriever is #3 in popularity, according to the American Kennel Club. That almost guarantees that Goldendoodle puppies are easy to find. But how can you be sure that you're getting a healthy puppy with a stable temperament?
You can feel at ease! Our whole mission here is meant to ensure that our puppies are raised in a loving home and safe environment. Our Mini Goldendoodles live in a forever home, whether that's our home or one of our
guardian families
. They are always a part of the family, and this includes the puppies we raise. 
When our puppies are 3 days old, we begin their training with Early Neurological Stimulation (ENS). That's the specific term for the process of gently introducing them to different situations and noises that they'll encounter later in their daily lives. Your puppy will be even tempered and able to handle whatever comes his way.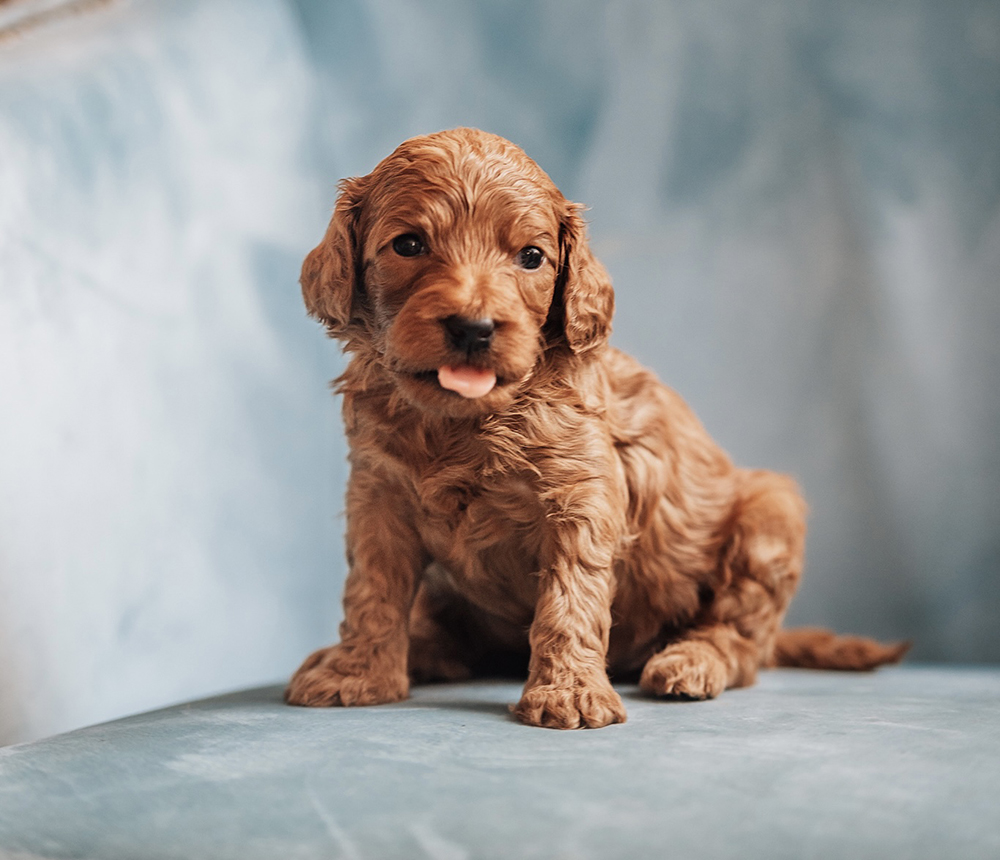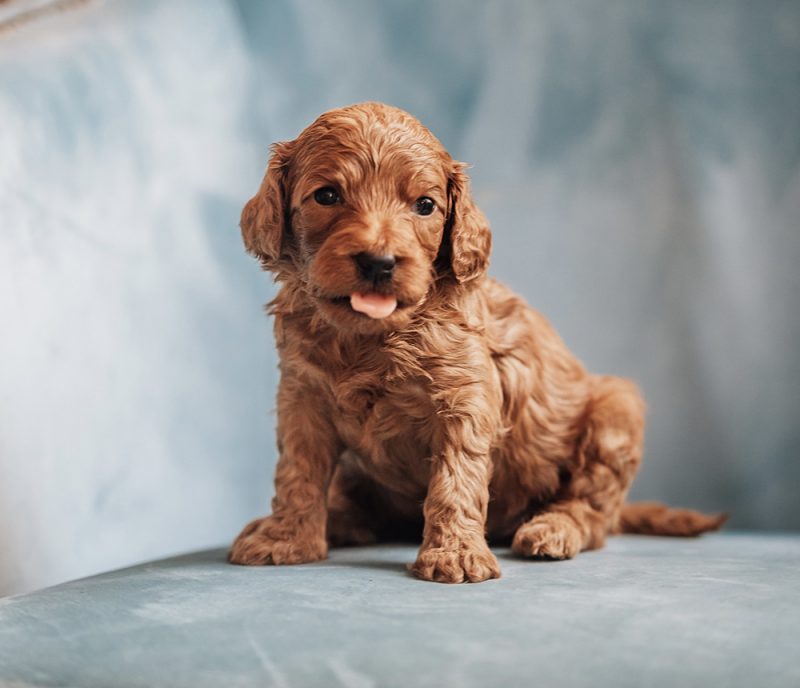 Adopting a Mini Goldendoodle
Find us listed in the Natural Rearing Breeders Directory as reputable Goldendoodle breeders. Our commitment to natural raising of our puppies includes a species appropriate raw diet and a holistic health care approach. Our dogs are loved members of our family. We are as protective of their health and environment as we are of our own. If you are interested in adopting a naturally reared Goldendoodle puppy, the first step would be to get to know us by reading over our website, including the FAQ page and blog articles. The next step would be to submit an application. If approved, we will reach out within a week to let you know and schedule a phone interview. 
FAQs on Mini Goldendoodles for Adoption
If you have never raised a Mini Goldendoodle puppy, are you ever in for a lot of fun! Still, keep some things in mind before you fill out our Puppy Application form. Here are answers to some of the most frequently asked questions.
Are Mini Goldendoodles hypoallergenic?
Yes, but… the term, hypoallergenic, means that they are less likely to affect allergies. It does not mean that they are allergy free. It depends on the severity of your allergies. To help minimize the risk, we genetically coat test all of our parent dogs to select the most allergy friendly traits.
Do Mini Goldendoodles shed?
Yes and no. Certain breeds are considered 'non-shedding'. This is a term used for dogs that shed very little. They will not shed seasonally, or leave fur all over your clothing and furniture. They also have a coat that's more like hair than coarse fur. As mentioned above, we do genetic testing for not only health but coat traits that help us select the most ideal pairings for minimally shedding offspring.
Does a Mini Goldendoodle need grooming every day?
That depends on how active your puppy is, coat type and length. Active dogs (swimming and running in woods) and those with long coats will need daily brushing. Even though he sheds much less, his coat will need more maintenance than a flat coat breed. If you want lower maintenance, keeping the coat short is a good idea!
How big do Mini Goldendoodles get?
Our puppies will grow to weigh between 25 and 35lb, with an occasional Petite sized puppy which will be less than 25lbs.
What is a multigenerational Goldendoodle?
A multigenerational (also known as multigen) Goldendoodle is a cross that doesn't have a filial label such as F1, F1B, etc.
The Goldendoodle Association of North America defines a multigen as this:
"Multigen = Two Goldendoodle parents – One parent must be an F1B or multigen. A Poodle or a Golden Retriever bred to a multigen Goldendoodle also constitutes a multigen."
Because we see more consistency in coat traits, most of our puppies will be multigen, with an occasional F1B, or F2B litter.
What are the sizes of Goldendoodles?
This breed's versatility is not limited to his temperament. No, indeed! Actually, according to the Goldendoodle Association, there are 4 sizes.
PETITE: Up to 25lb, under 14in tall at the withers.
MINI: 25lb to 35lb, 14in to 17in at withers.
MEDIUM: 36lb to 50lb, 17in to 21in at withers.
STANDARD: 51lb or more, over 21in at withers.
Final size is measured at adulthood at the withers (where the neck meets the back, at shoulder blades). Remember that the breeder is making an educated guess as to the mature size. No breeder can guarantee what we can't control.
What is a Mini Goldendoodle's temperament?
We strive for a balanced mix of the parent breeds, which includes friendliness, energetic, and a desire to please. Please keep in mind that with any purpose bred cross, puppies can take on more or fewer traits of the original parent breeds.
Are Mini Goldendoodles good with children?
Most dogs are great with children, including Goldendoodles, with proper supervision. But puppies? They are high energy, just like young kids, which can be a challenge. Puppies may use your little ones as chew toys, jump on them, and in general, be a little overbearing. As the parent, you know your children best. Can they handle the growing pains that puppies bring? If not, an adult dog that's already beyond the baby shark stage might be a better option.
The good news is that puppies do grow up and settle down, especially with proper training and consistency.
Are Mini Goldendoodles good with other dogs?
In general, yes! As a bonus, adult dogs in the home help new puppies learn the ropes, and also provide additional companionship. If you do not have a second dog, your puppy would do well with play dates.
What is the price of a Mini Goldendoodle puppy?
The price range is $2000 for males and $2100 for females.
What's the lifespan of a Mini Goldendoodle?
As a rule of thumb, the smaller breeds tend to live longer. Environmental factors also play a role in longevity. On average, a healthy Mini Goldendoodle can live 10-15 years.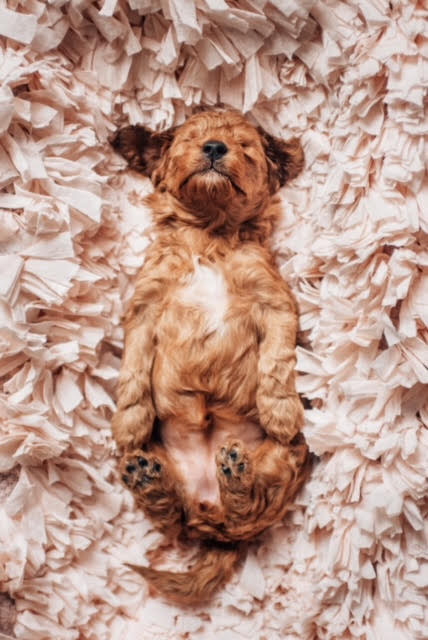 We have had the best experience with Maple Hill Doodles! We just adopted our mini goldendoodle puppy yesterday and he is already beyond our expectations. He was so relaxed on the 7 hour drive to NY and is very quickly settling in to his new home. He was clearly raised with love, attention and intention in his first 8 weeks.
We found Maple Hill Doodles while researching holistic breeders and knew right away that this was the place for us. Andrea was incredibly communicative throughout the whole process – sending photos and videos, recommending resources, and answering questions. We appreciate her holistic philosophy and the care she gives to finding her puppies the right homes.
We are so thankful for Maple Hill Doodles and cannot recommend them enough!
– A.G.