Why do we raise our Doodles here in northern Ohio using a Prey Model Raw Diet feeding plan? Simple. We want to start out your puppy with the best possible health and nutrition. So, we feed a prey model raw diet to the parents, and also wean your puppy to the same diet.
Most people aren't quite sure what to think of raw feeding when they first encounter it. In our age of processed and packaged foods for dogs, and humans alike, that's not surprising. People think it's messy and complicated, but that's not necessarily the case. Especially today, it's easier than ever!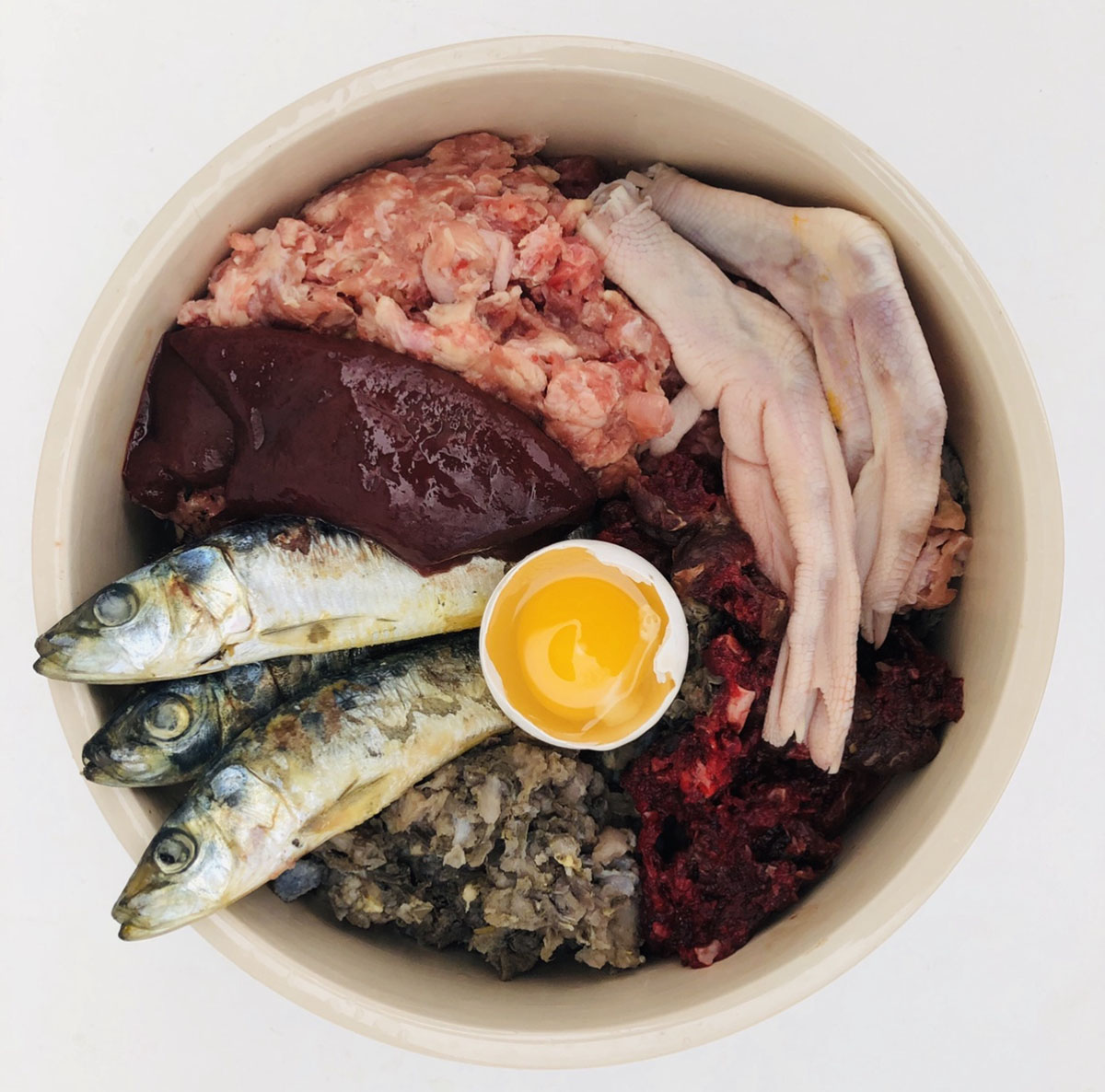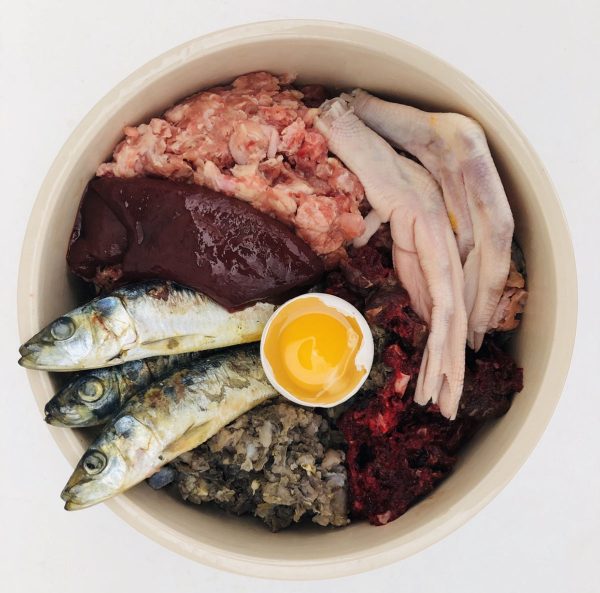 What is a Raw Diet?

A raw diet for your puppy is simple – it contains raw meat, organs and bones. (Not all bones are edible, and we'll go over that with you later in this post.) But its simplicity doesn't go as far as picking up a few packages from the meat counter at your grocery store. There's a bit more to it.
For one thing, buying meat at the grocery is expensive! You know that's true, from feeding just your family. It's no wonder some families have lots of casseroles. However, humans are omnivores, meaning our bodies can use fruits and vegetables in addition to meats. Dogs are carnivores. But they need more than just muscle meat.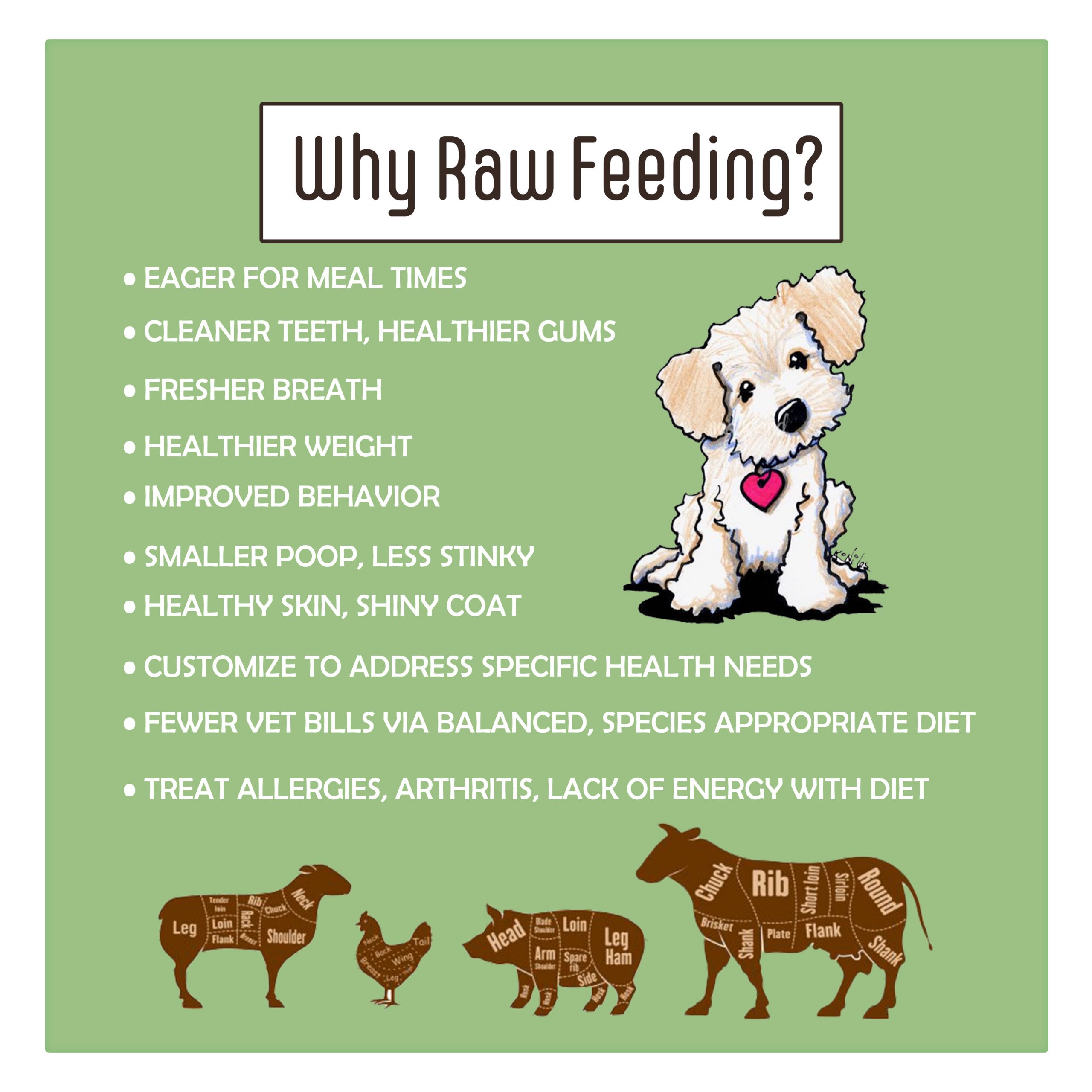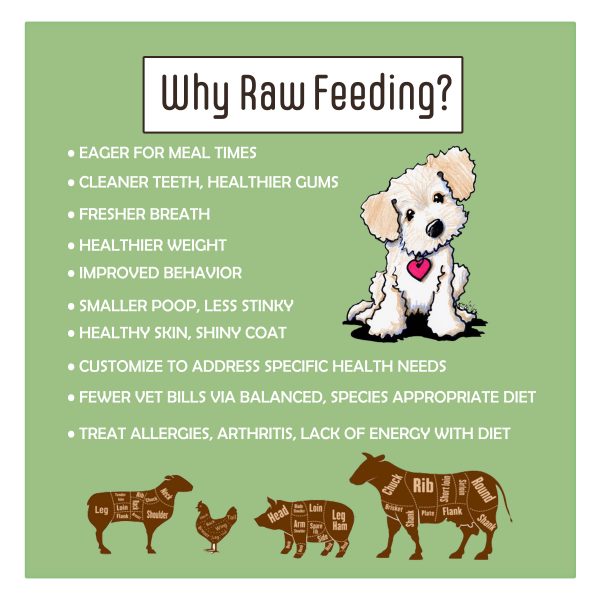 The Prey Model Raw Diet

In the wild, canines are hunters. Consider the wolf. He doesn't wait for a forest ranger to fill his food bowl with kibble. No, he goes out and brings down a deer or an antelope, then dines on it for a few days. He eats everything except the antlers. Every. Thing. Meat, stomach, tongue, hide, fur, intestines, the whole animal. Plus, he eats different kinds of animals, including rabbits and wild birds (and their eggs, shells and all). And the wolf is healthy, in spite of never visiting the vet.
Look in your dog's mouth — carefully. His teeth are sharp and pointy (even the molars), perfectly suited to rip and tear his food. His jaws open wide, able to accommodate large pieces such as a hip bone. This is important since your dog uses his molars to gnaw and grind up those bones.
Feed the Right Balance to Your Dog

So, from a casual observation of any potential prey animal, we can see it's mostly muscle meat, including the heart. About 80%, in fact. The framework of bones supporting those muscles makes up about 10% of the animal. And the internal organs – spleen, lungs, brain, stomach and the rest – are the remaining 10%. The Prey Model Raw Diet is based on this ratio.
80-85% muscle meat
10-15% raw bones
5-10% offal (internal organs)
Provide this nutrition for your dog by feeding whole animals or mixing parts of different animals. Frozen pre-packaged meal plans are available, so you won't have to trap and kill your dog's food unless you just want to. Vary the kind of meats to give your dog as complete a nutritional profile as possible over time.
The Prey Model Raw Diet does NOT include:
Processed foods, like kibbles
Meat by-products
Fruits or vegetables
As previously discussed, a dog's teeth are sharp for tearing, not flat for grinding. Grains, fruits and vegetables are rarely eaten by canines in the wild. Meat by-products is the term used for everything except the meat, rendered and cooked so there's no remaining nutritional value anyway. Learn more about what's allowed by the Association of American Feed Control here. And be sure to read the labels on your own food too!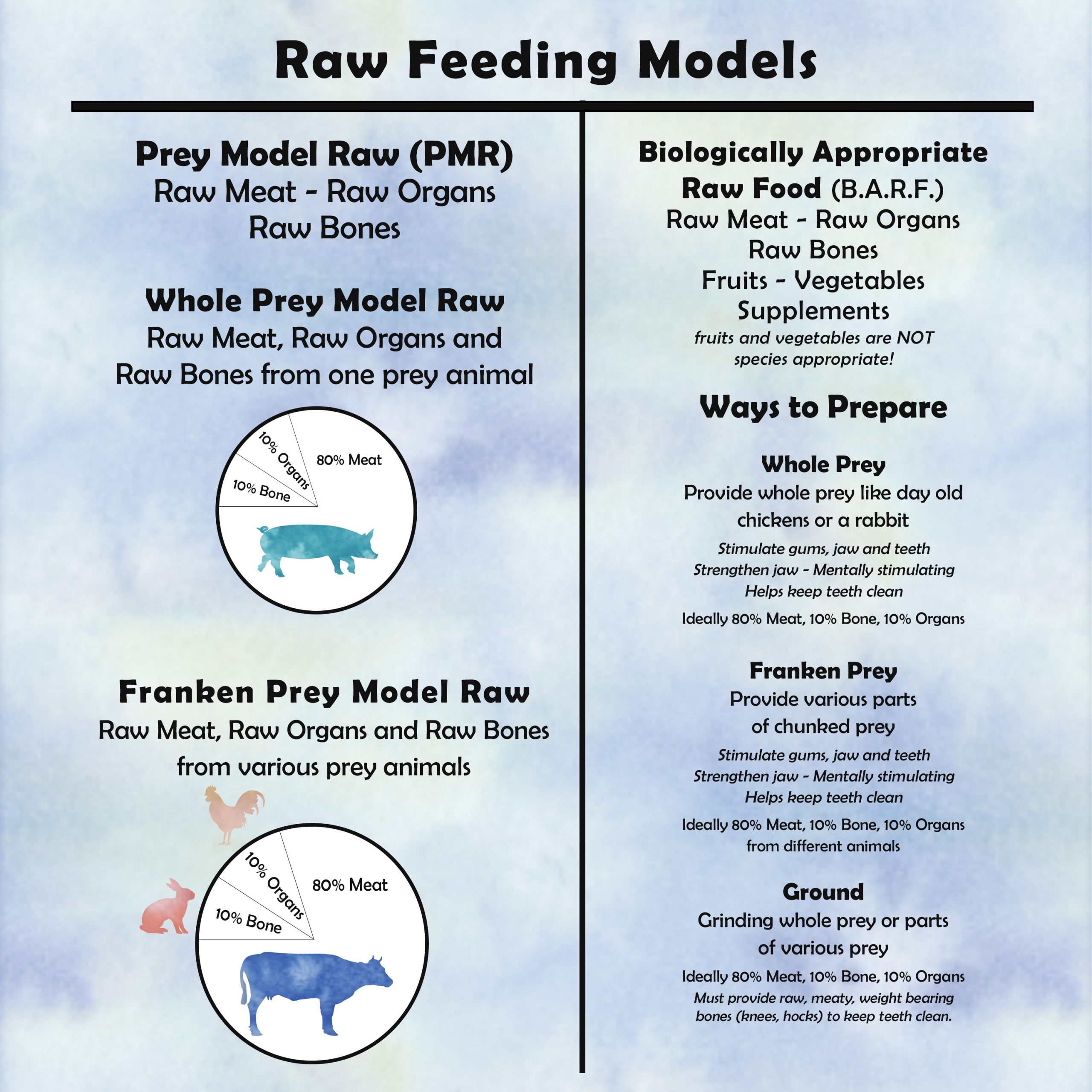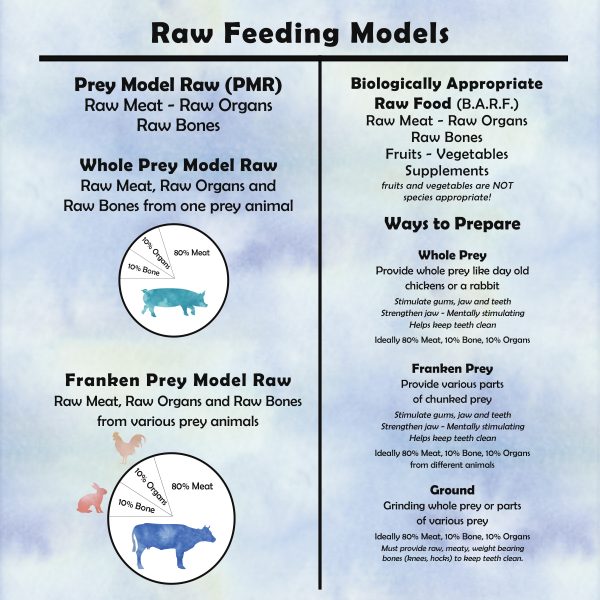 Take a look at the kind of nutrition the prey model raw diet provides.
Muscle Meat
The greatest part of the raw diet is muscle meat. Because this meat is raw, it provides essential amino acids and vitamins. Also raw meat gives a healthier satiety (the feeling of a full stomach). Your puppy is satisfied because his tummy is full of good protein rather than fillers. As good as muscle meat is, however, feed more variety to avoid nutritional deficiencies.
Raw Edible Bones
Raw bones are full of important nutrients. They contain minerals, such as calcium, phosphate, and magnesium; and vitamin D, which is crucial for proper absorption of those minerals. The bone content of your dog's diet will also help determine whether his stools are firm. Most families start at 10% of the diet and adjust as needed. Here is a great explanation of the best types of raw meaty bones to feed your puppy, and what kinds of bones to avoid. Never feed cooked bones!
Liver
Liver is a storehouse of essential vitamins and nutrients! It's a great source of vitamin A, as well as many water soluble vitamins. Feed liver at about 5% of your puppy's diet. But limit the amount of liver to avoid the possibility of vitamin A toxicity.
Other Organs
Pancreas, kidney and spleen provide additional water soluble vitamins. These organs should be about 5% of your dog's diet.
Animal Based Fiber
As we know, soluble fiber is important for colon and microbiome health. Your dog's best source of fiber is a small amount (2-5%) of skin, fur, feathers, feet and other non-meaty, non-bone parts.
Green Tripe
The stomach and contents of a ruminant (cud-chewing) animal is a pungent, yet integral, part of your dog's diet. It carries essential fatty acids omega-3 and omega-6 (in optimal proportions), digestive enzymes and protein. Tripe is particularly good if your dog has gut health issues. But even if your puppy is healthy, he'll benefit from all this natural goodness.
Sources for your Prey Model Raw Diet feeding program
We give you a few days' worth of your puppy's packaged raw diet when you go home, to get your family started with the routine. We've been using prey model raw feeding for years and we're sold on the health benefits to our dogs and puppies. Take a look at the vibrant health and boundless energy of our stud dogs, especially Jack, the purebred Poodle, and you'll see what we mean.
Feeding raw and leaving out the kibble, fillers and fruits & veggies is simple. Your dog's raw diet can be frozen into portions of the perfect size. Eggs can be refrigerated as normal. Storage is easy, and more secure from insects and pests than bags of dry dog food. And the frozen portions won't go stale.
The suppliers in this Raw Feeding group service raw feeders in the United States. Click on a company's name to visit their website for more information about raw food companies.
https://www.rawfeedingadviceandsupport.com/usa-meat-suppliers
As an alternative, if there's a full-service butcher shop in your area that offers many different varieties of meats, talk with the butcher about your raw feeding needs. Frequently you can find goat, rabbit, fish and other convenient fresh sources that may suit your situation.